Ingredients for my delicious Ham and Cheese Biscuits
1 cup smoked (fully cooked) ham – I shredded 1/2 cup + diced 1/2 cup to give the biscuit texture = 1 cup total
2 cups flour, spooned and leveled (don't pack it)
1 TBSP sugar
1 TBSP baking powder
1/2 TEA onion-garlic powder
1/2 TEA sea salt
1/4 TEA black pepper
1 stick UNsalted butter, cold (do NOT melt) and cut into 6 or 8 cubes
1 cup shredded cheese of your choice (I mixed Gruyere with cheddar)
3/4 cup milk
2 TEA lemon juice
1 TBSP fresh sage, chopped (approximately 6 leaves)
1 TBSP fresh chives, chopped
Directions
Grease a round ceramic/porcelain pie dish or a 9″ x 9″ glass baking dish. Alternatively, you could drop large spoonfuls onto a cookie sheet lined with parchment paper. These are going to have a scone consistency, they will not spread.

Preheat oven to 425 degrees.

In a large mixing bowl, whisk together the flour, sugar, baking powder, and seasonings. Add the cubes of butter to this and with your hands work it all together until it has a crumbly texture. Keep working the cubes of butter into the flour mixture until it is fairly consistent. Add the ham and cheese to the mixture. Next, pour in your milk and lemon juice. (By the way, the milk and lemon juice create 'buttermilk' so if you have buttermilk in your fridge, you certainly could use 3/4 cup buttermilk instead).
Add in the sage and chives. Feel free to substitute for other herbs if you don't love the ones I've used. Good substitutions here include rosemary, thyme, parsley or tarragon. Now you have a dough!At this point, you could begin cooking it, but I took it one step further to make it pretty, and get some 'baking therapy.' It's just so fun to bake, and meditative to roll the dough out and play with it!

So if you want to bake the dough right away, go ahead. If you want to take it one step further and impress your guests, try this:
Roll out the dough with an awesome French wooden rolling pin like THIS into a 12 inch circle.
The marble rollers are pretty awful in my opinion, they never worked for me! Expert bakers will agree with me!
I rolled this dough out on my silicone pastry mat after sprinkling a little flour on it (so the dough doesn't stick). After shaping it, and rolling it out, I carefully moved the dough to the porcelain pie dish and baked it at 425 for 20 minutes.

If you would like another scrumptious recipe with ham, try my CrockPot Split Pea and Ham Soup Click Here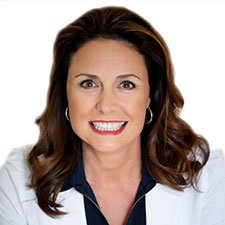 Suzy Cohen, has been a licensed pharmacist for over 30 years and believes the best approach to chronic illness is a combination of natural medicine and conventional. She founded her own dietary supplement company specializing in custom-formulas, some of which have patents. With a special focus on functional medicine, thyroid health and drug nutrient depletion, Suzy is the author of several related books including Thyroid Healthy, Drug Muggers, Diabetes Without Drugs, and a nationally syndicated column.