Ingredients
1/2 cup unsalted butter, melted
2 small medium ripe bananas (about 1/2 cup total)
1 cup golden brown sugar
1/4 cup evaporated cane sugar
1 tea vanilla extract
Optional, but highly recommended: 1 tea pure banana extract
2 cups unbleached, all purpose flour
1 tea baking soda
1 tea corn starch
1 tea sea salt
1-1/2 cup semi sweet or milk chocolate chips

Directions:
Preheat oven to 375 degrees.
Mash and mix together the butter, bananas, the 2 sugars, vanilla extract and banana extract if you have that. It will improve the flavor of the cookies. I didn't have it the first time I made this recipe, and they still tasted wonderful, but if you have the banana extract, it intensifies the banana flavor profile. Try the recipe each way to decide what you like best. Stir all this until smooth.

In another mixing bowl, whisk together the flour, baking soda, cornstarch and salt. Add these dry ingredients to the wet ingredients above and mix until well combined. Gently fold in the chocolate chips. Using a spoon or COOKIE SCOOP, place the dough balls on a high-quality, cookie sheet lined with parchment paper. Flatten the top of the dough ball since it won't spread very much on it's own.
Bake for 9 minutes (until the edges look set and lightly browned). Remove from oven and allow to rest on the hot pan for 2 to 3 minutes until the cookies set, and cook a little more. Place on serving dish. May freeze for 3 months.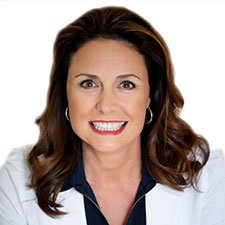 Suzy Cohen, has been a licensed pharmacist for over 30 years and believes the best approach to chronic illness is a combination of natural medicine and conventional. She founded her own dietary supplement company specializing in custom-formulas, some of which have patents. With a special focus on functional medicine, thyroid health and drug nutrient depletion, Suzy is the author of several related books including Thyroid Healthy, Drug Muggers, Diabetes Without Drugs, and a nationally syndicated column.