Ingredients For Apple Cinnamon Bread
1/2 cup Lt. brown sugar
1 apple, any kind, peeled and chopped into small pieces (Granny Smith is tart and I like that) – 1 cup total
1 1/2 TEA cinnamon
2/3 cup evaporated cane sugar
1/2 cup softened butter (I used unsalted)
1/2 cup sour cream (or apple sauce if you're dairy-free)
2 large eggs
1 TEA vanilla extract
1 cup all-purpose flour
1/2 cup almond flour
1 1/2TEA baking powder
Optional: Confectioner's sugar or icing


Directions
Preheat the oven to 350 degrees and grease a loaf pan (9″ by 5″). I went ahead and floured mine lightly too, but you don't have to. In a small mixing bowl, combine the light brown sugar, chopped apples, and cinnamon. Set aside.
In another large mixing bowl, blend or stir the sugar and butter together, then add the sour cream, the 2 eggs, vanilla extract, both flours, and the baking powder. Stir well.

To assemble this, pour about half the batter into your loaf pan, then place/pour half of the brown sugar/apple mixture on top. Now pour the other half of the batter on top and finish with the remaining half of the brown sugar/apple mixture. At this point, I took a toothpick and swirled the brown sugar/apple mixture a little bit, and pushed it down some into the batter because it will cook better this way.

Bake at 350 degrees until a toothpick comes out clean, it took my oven 55 minutes. Allow cooling for an hour or two before removing it from the pan and serving. This is sweet enough for me, however, if you want it sweeter: Top with confectioner's sugar or icing!

NOTE: You could use a 9×13 glass baking dish if desired. This will allow you to cut the bread in squares, and if you do it this way, you don't need to layer it the way I've described above. You can simply mix all the ingredients into one big bowl.
If you love cinnamon, you should read this How to Choose the Right Cinnamon for Your Health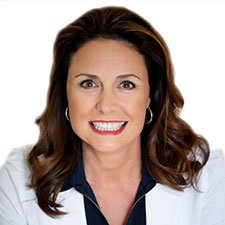 Suzy Cohen, has been a licensed pharmacist for over 30 years and believes the best approach to chronic illness is a combination of natural medicine and conventional. She founded her own dietary supplement company specializing in custom-formulas, some of which have patents. With a special focus on functional medicine, thyroid health and drug nutrient depletion, Suzy is the author of several related books including Thyroid Healthy, Drug Muggers, Diabetes Without Drugs, and a nationally syndicated column.