Onions aren't right for everyone. As an example, people with heartburn, or reflux sometimes experience problems with consumption. But if you can tolerate them, they are one of the most nutritive vegetables you can ever eat! Grilling them is something I just discovered I like!
Onions contain a wide variety of antioxidants that reduce inflammation in the body, therefore helping to balance cytokines. These same sulfur (not sulfa) compounds are strong medicine for cholesterol – research shows that these extracts reduce triglycerides and cholesterol, which in turn can lower risk for heart disease. Here's some fun facts and TRIVIA. 
Yellow onions seem to contain almost 11 times more antioxidants than white ones according to some research, and that's why yellow ones are useful for this recipe, plus they are 'sweeter' on your taste buds. As for red onions, those contain more colorful anthocyanidins which make them red, and this helps with heart disease.
Approximately 25 different anthocyanins have been isolated from red onions and the richer your diet is in anthocyanidins, the more heart-healthy the food. Blueberries, blackberries and black currants have a lot of these same compounds.
Onions are as healthy as garlic in terms of their potent anti-inflammatory actions. Research shows they may support healthy high blood pressure numbers, (ie help with hypertension) and this protects against the formation of blood clots. Here's how to grill them.
Ingredients for Grilled Onions
2 large onions (yellow, white or red), slice them 1/2 inch thick
Butter to baste – 4 tablespoons (if dairy free, use 1/4 cup grape seed oil)
1 TEA onion-garlic powder
Salt and pepper to taste
8 Skewers
Optional: Smoked paprika, dill, or cayenne pepper
Directions
Cut the ends off and slice the onions lengthwise. Slice them about 1/2 inch thick.
Wet the skewers under water if you use wooden skewers so they don't catch fire. Alternatively, use metal skewers like I do (see photo here).
Stick a skewer direction through each slice so it will stay put together during grilling. You may have to try it a few times to get it to go through all the layers properly. It's easiest to stick them when they are about 1/2 inch thick.
Melt the butter and cover the onions entirely (top and bottom), or alternatively spray them (or brush them) with olive oil. Then sprinkle your desired seasonings on top. I like dill seasoning, so I usually use that seasoning. Sprinkle any seasoning you like on them or none at all!
Grill on medium heat for about 5 minutes on each side, but it depends on the heat. Turn them over once, or twice to char them as you like. You can then lower the heat on your grill from medium to "low" and leave them there for another couple of minutes. This will soften them. Onions are done when they have a little char on them and are tender to touch. They store in the fridge well for a few days so you can use the leftovers in other recipes too. You may enjoy this blog post I wrote, Onions are Bulbous Beauties with Many Health Benefits.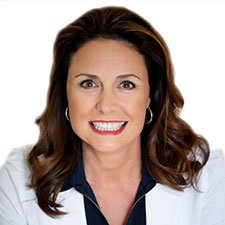 Suzy Cohen, has been a licensed pharmacist for over 30 years and believes the best approach to chronic illness is a combination of natural medicine and conventional. She founded her own dietary supplement company specializing in custom-formulas, some of which have patents. With a special focus on functional medicine, thyroid health and drug nutrient depletion, Suzy is the author of several related books including Thyroid Healthy, Drug Muggers, Diabetes Without Drugs, and a nationally syndicated column.