Ingredients
Figs, approximately 16 (ripe, but not mushy)
3 ounces of goat cheese (or feta cheese, or even brie cheese)
1 tablespoon balsamic reduction (not vinegar)
About 1 tablespoon grape seed oil, butter or even spray olive oil
Salt and pepper
Optional: Sweetener of your choice.

Directions
Preheat oven to broil. Wash and dry the figs, then cut the stems off. Next, cut an X pattern into the fig about 1/2 way down. In a small bowl, combine the balsamic reduction with the goat cheese, and stir well. You might have to heat it for 10 seconds in the microwave. (See my note below. Also, you don't have to add the balsamic reduction, you could simply leave it out).
Fill the 'holes' of the figs with the goat cheese mixture. Paint each with some oil, butter or spray oil. I have a spray can of "Organic Extra Virgin Olive Oil" that I used for this recipe. Even though olive oil has a low smoke point, I still used it because the cooking time is very fast. Be sure to lightly salt and pepper each fig, and place in the oven.

Broil for approx. 4 minutes. Watch them closely – you're done broiling when there is a slight browning of the cheese on top of the goat cheese. They taste delicious straight out of the oven, however, for a sweeter flavor, feel free to drizzle with a little bit of honey, date honey, "Beefree® Honee" or maple syrup.
Update: I made this again today, and this time I stuffed the figs with goat cheese and drizzled them with the balsamic reduction, it made the figs look prettier this way. I also did NOT use a sweetener and they were still drool-worthy.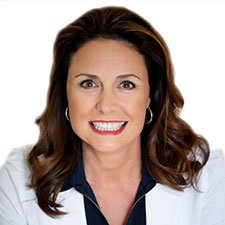 Suzy Cohen, has been a licensed pharmacist for over 30 years and believes the best approach to chronic illness is a combination of natural medicine and conventional. She founded her own dietary supplement company specializing in custom-formulas, some of which have patents. With a special focus on functional medicine, thyroid health and drug nutrient depletion, Suzy is the author of several related books including Thyroid Healthy, Drug Muggers, Diabetes Without Drugs, and a nationally syndicated column.