Ingredients
1 large butternut squash (about 3-4 pounds), peeled, seeded, coarsely chopped (about 2 inches)
2 medium yellow onions, coarsely chopped
3 to 4 garlic cloves, minced
1 small tomato, peeled, seeded, chopped
2 tablespoons olive or grapeseed oil
1 tablespoon tomato paste with Italian herbs
4 slices of well-done bacon, chopped
1 teaspoon dry thyme (or 1 tbsp. fresh snipped thyme)
6 cups organic chicken broth
1/2 cup whipping heavy cream
1/4 cup cream sherry wine (or Port wine)
1/8 teaspoon cayenne pepper
Freshly ground black pepper
Salt
Optional: Bread and cilantro for garnish
Instructions
In a large pot (at medium heat) add the olive oil, onions, garlic and bacon. Stir-fry for for about 5 minutes, or until the onions are translucent. Add the tomato paste, chopped tomato, butternut squash, thyme, cayenne, and black pepper. Sauté for a couple of minutes. Add the chicken broth and bring to a boil. Cover the pot, lower the heat, and simmer for about 45 minutes.
Remove the pot from the heat. Puree the soup by either using a food processor or an immersion blender. Stir in the whipping cream and cream sherry wine. Season with salt and black pepper. Cook on medium heat for 10 minutes or until the soup thickens. Serves 4-6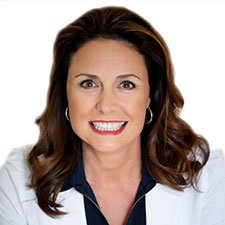 Suzy Cohen, has been a licensed pharmacist for over 30 years and believes the best approach to chronic illness is a combination of natural medicine and conventional. She founded her own dietary supplement company specializing in custom-formulas, some of which have patents. With a special focus on functional medicine, thyroid health and drug nutrient depletion, Suzy is the author of several related books including Thyroid Healthy, Drug Muggers, Diabetes Without Drugs, and a nationally syndicated column.