1/2 cup high quality olive oil or grape seed oil if you prefer a milder flavor
Approx 1/4 cup balsamic vinegar (high quality)
1 teaspoon agave, or honey
1 tea Dijon mustard
1 TBSP minced onion or shallot
2 cloves garlic, minced
Optional: 2 to 3 teaspoons (total) fresh minced herb if you have basil, tarragon or thyme in the garden
Sea salt and pepper to taste

Directions
Combine everything in a mixing bowl and stir well. An option for those of you that would like to try it is to "reduce" the balsamic vinegar. You can do this if you find the original recipe a tad too zingy. A balsamic "reduction" means you will start with twice as much vinegar (so 1/2 cup for this recipe), and you gently simmer it until you have 1/4 cup left. This just means you're evaporating the water, and the concentrated vinegar has more sugar, relatively speaking, and it cuts down on the overall vinegar zing of the recipe. I don't personally do this, but you should know that you can, and how it might affect your recipe. Another adaptation of this recipe is to leave out the Dijon mustard entirely. Experiment with this recipe, perhaps you want to increase the amount of the vinegar so that the ratio of oil to vinegary is 1:1, so you can add 1/2 cup vinegar to the 1/2 cup of oil. This will of course, make it more of a sharper tasting vinaigrette.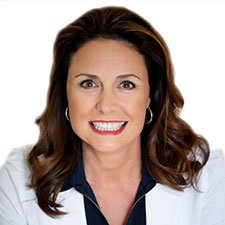 Suzy Cohen, has been a licensed pharmacist for over 30 years and believes the best approach to chronic illness is a combination of natural medicine and conventional. She founded her own dietary supplement company specializing in custom-formulas, some of which have patents. With a special focus on functional medicine, thyroid health and drug nutrient depletion, Suzy is the author of several related books including Thyroid Healthy, Drug Muggers, Diabetes Without Drugs, and a nationally syndicated column.