I often make this dessert with just peaches!

An antioxidant called beta-carotene gives peaches their pretty golden-orange color. When you eat it, your body turns it into vitamin A, which is key for healthy vision. This recipe is so delicious you will lose your mind, it is nothing like a cobbler, it is much more satisfying. It is made to be GLUTEN FREE, however you can use any flour you like for this and it will not impact the flavor.
5 cups peaches (and/or pears and cut into small bite-size chunks or very thin slices)
1/2 cup melted butter (8 tablespoons, *see my note below) 
1 cup almond flour (**see note below about flour)
1/4 cup all purpose flour
1/2 cup Light Brown sugar
1/2 teaspoon Real salt
1/2 cup Gluten Free rolled oats (chop/blend them in your cuisinart for 20 seconds to break them down)
1 cup chopped pecans
1 teaspoon CEYLON cinnamon

Directions
Preheat oven to 350 degrees.
Cut your peaches (and/or pears) into thin or small bite-size pieces. No need to skin them. You need about 5 cups.
Pour your fruit into a lightly sprayed/greased 8 x 8 baking dish. I really like a lot of crumble and you will too once you taste this recipe. To make the crumbilicious part, do the following:

Melt your butter in a mixing bowl, and then add the two flours, the brown sugar, salt, ground up oats and cinnamon. Next, stir in the chopped pecans.

Spoon this crumbly topping over the fruit. Not all of the fruit will get covered but that's okay. Don't spread it, just put dollups of the topping over the peaches, so when it bakes, it will look prettier. Bake for about 35 – 40 minutes or until the top is browned to your liking.

OILS –> I often substitute 1 of the tablespoons of butter for 1 tablespoon of Tea Seed Oil just for the health benefit that you get from that oil. Doing this will not impact flavor.

** FLOUR –> I like to use the 'thicker' 100% blanched almond flour because the thicker consistency adds more texture to the crumble topping. But you can use any flour you like, except for self-rising.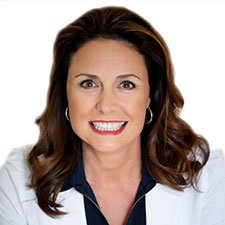 Suzy Cohen, has been a licensed pharmacist for over 30 years and believes the best approach to chronic illness is a combination of natural medicine and conventional. She founded her own dietary supplement company specializing in custom-formulas, some of which have patents. With a special focus on functional medicine, thyroid health and drug nutrient depletion, Suzy is the author of several related books including Thyroid Healthy, Drug Muggers, Diabetes Without Drugs, and a nationally syndicated column.