Ingredients
1 large head of organic broccoli, chopped
1/2 cup shredded cheddar cheese
1/2 cup gouda cheese, shredded
1/2 cup rice flour
1/2 tea sea salt
1/8 tea black pepper
1/4 tea dry mustard
1/4 cup butter, melted
1 table butter
1/2 cup sliced leek
1 cup sliced shiitake mushroom
2 tablespoons rice flour
1 cup half and half
1 tea salt
1/4 tea nutmeg
3 eggs, lightly whisked/beaten
Directions: Preheat the oven to 400 degrees
Steam the clean, chopped broccoli in some boiling water. If the stalks are thick you can peel them slightly, this is optional but it makes them tender and softer when you cook them. So you want to steam the broccoli, it usually takes about 5 minutes in a little pot of water, but you can decide.
You want these tender but firm. In a separate bowl, combine both cheese, the rice flour, salt, dry mustard and black pepper. Mix in the melted butter next.
Press into the side of an 8 inch pie dish. This makes a delicious crust.
Next, melt 1 tablespoon of butter in a pan over medium heat, and saute your leek and mushrooms until tender. Stir in the 2 tablespoons of flour, the half and half, remaining salt and nutmeg. Slowly (while stirring constantly) bring it to a boil and simmer for 2 minutes. Remove from heat and mix in the broccoli and beaten eggs.
Pour on top of your cheese pie crust. Bake 10 to 15 minutes at 400 degrees, and then turn down the heat to 350 and bak another 20 minutes or so. You will know when it's done when a fork or knife is inserted and it comes out clean.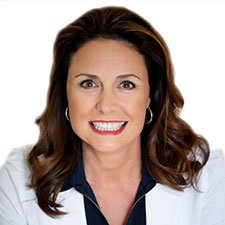 Suzy Cohen, has been a licensed pharmacist for over 30 years and believes the best approach to chronic illness is a combination of natural medicine and conventional. She founded her own dietary supplement company specializing in custom-formulas, some of which have patents. With a special focus on functional medicine, thyroid health and drug nutrient depletion, Suzy is the author of several related books including Thyroid Healthy, Drug Muggers, Diabetes Without Drugs, and a nationally syndicated column.