Ingredients
What makes this pie so amazing, is the use of Pumpkin Seed Oil. It adds authenticity to the pie, as well as an 'injection' of potent antioxidants and natural flavors. It's kind of amazing in terms of health benefits!
To make the crust
1 1/2 cups almond flour
2 tablespoons rice flour
2 teaspoons turbinado sugar
1/2 cup grape seed oil
1 tea sea salt or Himalayan salt
1/4 cup cream
To make the filling
1/2 cup turbinado sugar
1/4 cup muscavado sugar
2 teaspoons ground cinnamon
1/2 tea salt
1/2 tea ginger
1/4 tea nutmeg
1/4 tea cloves
1 can pumpkin puree (or skip the canned and cook your own puree)
2 tea Pumpkin Seed Oil
1/4 cup grape seed oil
2 eggs
1 teaspoon vanilla extract
1 cup whole milk (alternative milks will work okay too)
Directions
Preheat oven to 425 degrees. You'll make the crust first. To do so, combine the flour, sugar and Himalayan salt. Add the oil and milk into this and work together until a soft dough forms. Use your hands and press this into a pie pan, crimping the edges with a fork if you'd like. Next, put into a mixing bowl the sugar, salt and all the other spices and stir well. Set aside.
Now, gently whisk together the pumpkin, grape seed oil, eggs and vanilla extract. Add the pumpkin puree mixture to the bowl of dry (spice) ingredients and stir until completely blended and smooth. Pour into your pie crust. You can then put the pie crust on top of a cookie sheet (optional) to allow it to cook more evenly, and then place all of that into your preheated oven.
Bake at 425 for 8 to 10 minutes, then reduce the temperature to 350 degrees and continue cooking for approximately 45 to 60 minutes, or until a knife inserted into the center comes out clean. The center may be very slightly wiggly, but as long as a toothpick comes out clean, it should thicken as you cool it. The pumpkin pie will continue to firm outside of the oven, once cooled.
Serve with fresh whipped cream if desired.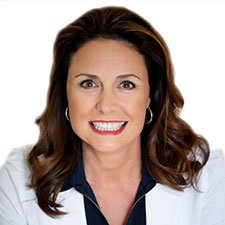 Suzy Cohen, has been a licensed pharmacist for over 30 years and believes the best approach to chronic illness is a combination of natural medicine and conventional. She founded her own dietary supplement company specializing in custom-formulas, some of which have patents. With a special focus on functional medicine, thyroid health and drug nutrient depletion, Suzy is the author of several related books including Thyroid Healthy, Drug Muggers, Diabetes Without Drugs, and a nationally syndicated column.