Ingredients
1/3 cup olive oil (extra for roasting pumpkin)
1 cup chopped onion
3 cloves minced garlic
2 cups Arborio (Italian short-grained) rice
1 cup dry white wine
6 cups hot vegetable stock
1 small piece of pumpkin, peeled
½ cup grated Parmesan cheese
5 fresh sage leaves, chopped
Directions
Preheat oven to 375 degrees. Halve the pumpkin and remove the seeds. I always ask someone in the produce section to cut it in half for me in the back and then I can cut the pumpkin flesh into large chunks at home, approximately 1 ½ inches square pieces. Toss in a large bowl with a little olive oil, salt and pepper.
Place them on a pan coated with nonstick spray and roast pumpkin in the oven for 40 minutes or until tender. Set aside and keep warm.
In a large wok or paella pan, heat 1/3 cup olive oil. Add the onion and garlic and saute until softened, 3 to 4 minutes. Add the rice and stir, using a wooden spoon, to coat the rice with the oil.
Add the white wine all at once and continue cooking, stirring often, until it has been absorbed by the rice. Pour in enough stock to cover the rice completely, about 3 cups, and continue to cook, stirring often, until all the liquid is absorbed. Stir in the fresh sage leaves.
Pour in 1 more cup of the remaining stock and stir and cook until it has been absorbed. Continue to repeat, cup by cup, until the rice is al dente and most of the liquid has been absorbed. Stir in the pumpkin and reduce the heat to very low. Stir in the Parmesan to give the risotto a nice, creamy finish. Garnish with more fresh sage leaves which are now widely available in the produce department.
The most beautiful way to serve this is during the autumn season is inside a small cleaned-out real live pumpkin (as shown in my picture above), and of course with a mouth-watering slice of sourdough bread and butter! You can always put it on a pretty plate at any time when pumpkins are out of season.
CLICK LIKE to FOLLOW Suzy Cohen – Get Important Health Tips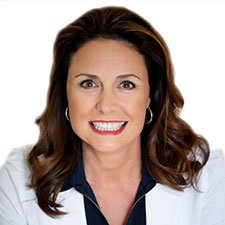 Suzy Cohen, has been a licensed pharmacist for over 30 years and believes the best approach to chronic illness is a combination of natural medicine and conventional. She founded her own dietary supplement company specializing in custom-formulas, some of which have patents. With a special focus on functional medicine, thyroid health and drug nutrient depletion, Suzy is the author of several related books including Thyroid Healthy, Drug Muggers, Diabetes Without Drugs, and a nationally syndicated column.