Ingredients
1 to 1.5 lb sirloin or flank steak, cut into thin strips
1/2 cup butter
1 yellow onion (about 1/2 cup) sliced thin
4 garlic cloves, minced
Approx 2 1/2 cups mushrooms (I use a combination of shiitake and baby bella)
1 TBSP worcestershire sauce
1 tea dry mustard powder
1 cup of beef stock (water works too, just add more spice/herbs for flavor)
3 TBSP rice or all purpose flour
1 tea sea salt and dash of black pepper
1/2 cup of sour cream
Pinch of nutmeg
Fresh herbs of your choice totaling 1/4 cup – I combine whatever is growing in the garden, or what I have in the fridge… usually it is some fresh parsley, a little tarragon, rosemary and thyme. Use whatever herbs you like or have growing. Just rinse your herbs, and then scissor them into the dish towards the end of cooking in order to preserve all the enzymes and antioxidants. If you overcook fresh herbs, they lose their color, flavor and healing power.
Egg noodles, cooked and drained
Optional: 1/2 cup of frozen green peas
Garnish with fresh parsley
Directions
Cook the egg noodles, and set aside. While they are cooking, you can make the rest of this dish in another pan by heating half the butter (1/4 cup) with the steak strips. Cook for 2 minutes to try to brown the meat on each side, then add the onion, garlic, mushrooms (and peas) to the pan and continue cooking. Saute everything until it is cooked, on medium high heat for about 5 minutes. Set the vegetables aside.
Using the same pan, with the sauce that remains in the pan, turn down the heat to about medium-low, and add the rest of the butter, salt/pepper and your beef stock. When bubbling, whisk some all purpose flour in until smooth. You can add even more flour if you prefer the sauce to be thicker, just keep whisking until smooth. When satisfied with the texture of the sauce, add all the fresh herbs, as well as a pinch of nutmeg and the sour cream. Stir until smooth, about a minute or two. Combine everything together and serve over the your warm egg noodles. Garnish with fresh parsley. This has a brilliant flavor profile and is very satisfying.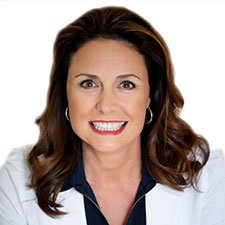 Suzy Cohen, has been a licensed pharmacist for over 30 years and believes the best approach to chronic illness is a combination of natural medicine and conventional. She founded her own dietary supplement company specializing in custom-formulas, some of which have patents. With a special focus on functional medicine, thyroid health and drug nutrient depletion, Suzy is the author of several related books including Thyroid Healthy, Drug Muggers, Diabetes Without Drugs, and a nationally syndicated column.