Peaches are full of powerful antioxidants, and so easy to find in the summertime. The flavor is enhanced with ginger, which is great for nausea, and for its anti-inflammatory properties. This is a great smoothie to drink if you have arthritis, or GI upset/nausea. Using the frozen peaches is easier than fresh peaches because you don't have to peel them, and you can skip the ice cubes too.
Ingredients
3 cups of frozen sliced peaches
1 to 1.5 tea freshly grated ginger
3/4 cup of skyr or Greek yogurt, plain or flavored
1 cup of milk, or alternative milk (I have also made this using water, instead of milk)
Optional: 1 tablespoon honey or maple syrup if sweetener is desired
Optional: Some chia seeds on top
Optional: Add 1 scoop of Collagen Beauty Powder to the smoothie for it's beautifying effects.
Directions
If you have a Vita-Mix® or a NutriBullet® those are ideal for making smoothies, but you can use any blender you like. Mix all ingredients together and blend on high for about 10 -20 seconds. Using one cup of milk (or water) is really up to you meaning you can use more/less of that liquid based upon the consistency desired. Some people prefer their smoothies really thin so it's sippable through a straw, while other people enjoy a thicker, almost spoonable texture. So in summary, add your liquid last and do a taste test during the processing.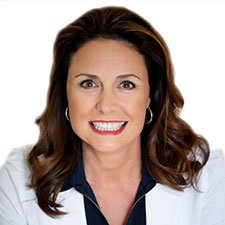 Suzy Cohen, has been a licensed pharmacist for over 30 years and believes the best approach to chronic illness is a combination of natural medicine and conventional. She founded her own dietary supplement company specializing in custom-formulas, some of which have patents. With a special focus on functional medicine, thyroid health and drug nutrient depletion, Suzy is the author of several related books including Thyroid Healthy, Drug Muggers, Diabetes Without Drugs, and a nationally syndicated column.