If you do not eat pork, feel free to use a smoked chicken leg/thigh or whatever meat you like!
Ingredients for Crock Pot Split Pea Ham Soup
1 pound bag dry, split peas (rinsed)
6 cups water
1 ham hock/bone, meaty
1 cup celery, chopped
1 cup carrots, peeled and chopped
1 cup onion, chopped
1/4 cup green onions, chopped (plus more for garnish at the end)
1/2 TEA black pepper
1/2 TEA dried thyme
4 – 5 cloves garlic, minced
1 bay leaf
2 TBSP fresh parsley (more for garnish at the end)
1 TEA ACV (apple cider vinegar)
Optional: 4 strips dried astragalus herb for immune protection
NOTE: if you don't have the astragalus, don't worry. This does not impact flavor. It is just an herb I have in my house, and I add it to all my soups and stews for immune protection. You have to take it out, along with the bay leaf prior to serving.
Directions
Place everything into your crock pot except the fresh parsley and pepper. If you don't have a crock pot, feel free to use a heavy soup pot, or dutch oven.

Cook on low for 8 – 10 hours.
At the end of the cook time, open the crock pot and give it a good stir. Remove the ham bone, and slice off the meat into bite-size pieces and the put it all back into the pot to reheat. Add a TEA of apple cider vinegar if you have that, and just stir it in. Remember to discard the bay leaf and the astragalus bark before serving.
When ready to serve, stir in the fresh parsley and the black pepper. If you would like to adjust the thickness of the soup, to alter the consistency/texture all you have to do is add more water to thin it out, or boil off some of the water in a little pot to thicken it.
Here a the Benefits of Peas if you would like learn more.
If you enjoy soups, you will LOVE my Heavenly Cream of Mushroom Soup. Click Here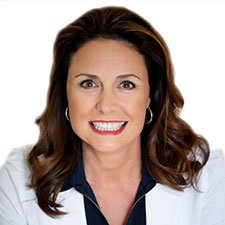 Suzy Cohen, has been a licensed pharmacist for over 30 years and believes the best approach to chronic illness is a combination of natural medicine and conventional. She founded her own dietary supplement company specializing in custom-formulas, some of which have patents. With a special focus on functional medicine, thyroid health and drug nutrient depletion, Suzy is the author of several related books including Thyroid Healthy, Drug Muggers, Diabetes Without Drugs, and a nationally syndicated column.