This is one of my favorite summer salads! The fennel gives it an impressive, unique and satisfying flavor. You can certainly choose your favorite salad dressing to top it with, but I recommend either a citrus or balsamic vinaigrette and these also blend well with the avocados.
Fennel has well-documented benefits for stomach cramps and dyspepsia. It also has a lot of vitamin C and that is an immune-boosting antioxidant, plus one that participates in the formation of collagen. Collagen is required for the body's bones, and skin matrix. The grapefruit in this salad is another source of vitamin C, plus it contains compounds known to support healthy blood pressure and cholesterol. It can interact with certain medications (statins, erythromycin, anti-malarials, etc), so if you take medicine, be sure the grapefruit is alright for you. If it's not, perhaps substituting with blood oranges could work.
NOTE: The reason grapefruit interacts with medications is because it contains "furanocoumarins" which inhibit liver enzymes (specifically CYP3A4) and if you block activity of this enzyme, the pathway to break down medications stops. If you can't break it down for elimination, the blood levels of the drug rise, and this may increase deleterious side effects. Here is another ARTICLE I wrote about drug interactions.
Ingredients Grapefruit Avocado Fennel Salad

About 5 cups of mixed salad greens such as green leaf, baby spinach leaves or arugula
1 large or 2 small avocados, peeled, sliced and cut into chunks
1 pink grapefruit (alternatively, 2 blood oranges), peeled, and cut
1/4 cup fennel, thinly sliced
Cheese: I recommend grated Parmesan or Asiago, about 1/2 cup
Optional: 1 TBSP of salted sunflower seeds
Directions
Combine the washed, cut salad greens, and avocados with all the other ingredients and gently toss together. Arrange on a plate and drizzle with your favorite salad dressing. Top with sunflower seeds if desired, or more cheese.
12 Benefits of Avocados Click Here
If you love avocados like me, you must check out my delicious guacamole recipe. Click Here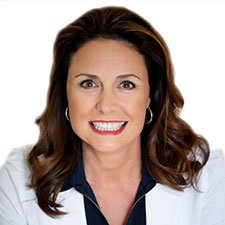 Suzy Cohen, has been a licensed pharmacist for over 30 years and believes the best approach to chronic illness is a combination of natural medicine and conventional. She founded her own dietary supplement company specializing in custom-formulas, some of which have patents. With a special focus on functional medicine, thyroid health and drug nutrient depletion, Suzy is the author of several related books including Thyroid Healthy, Drug Muggers, Diabetes Without Drugs, and a nationally syndicated column.