Ingredients for egg drop soup
4 cups water
About 1 TBSP "Better than Bouillon" extract
1/2 TEA garlic powder
1/2 TEA ginger powder
1 TEA arrowroot powder (alternatively, 1/4 TEA xanthan gum)
1 egg, lightly whisked
1 green onion sprig, chopped
Optional: Carrots, or other spices like thyme, or rosemary
Directions for egg drop soup
1. Whisk one egg and set it aside. It will be added to the egg drop soup at the very end.
2. Heat the water and "Better than Bouillon" extract together, along with the garlic and ginger powder. Alternatively, you can use 4 cups of homemade chicken broth instead of all that. In a separate small dish, whisk together a small amount of your broth into the arrowroot powder to wet it, and dissolve it. Doing this allows it to dissolve more uniformly in the whole pot of broth so after it's wet whisk it into the soup.
3. Put in the fresh green onions now. Some people like to add carrots, TOFU, or other spices like thyme or rosemary. I will leave the flavorings up to you.
4. When the flavor of the soup is where you like it, turn off the heat and move it off the heating element. Next slowly (and I must emphasize "slowly") go ahead and pour the egg into the hot soup. There is an art to doing this, try to pour it in very thin strands, don't dump it in. Also, do not whisk that into the soup, just pour it in slowly. Then cover the soup for approximately 5 to 6 minutes without disturbing it. It's ready to eat and it's free of MSG.
If soup is your thing, you can try my other recipe for Heavenly Cream of Mushroom soup: CLICK HERE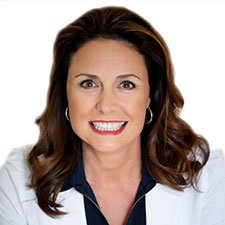 Suzy Cohen, has been a licensed pharmacist for over 30 years and believes the best approach to chronic illness is a combination of natural medicine and conventional. She founded her own dietary supplement company specializing in custom-formulas, some of which have patents. With a special focus on functional medicine, thyroid health and drug nutrient depletion, Suzy is the author of several related books including Thyroid Healthy, Drug Muggers, Diabetes Without Drugs, and a nationally syndicated column.