These keto biscuits can be made exactly the same way WITHOUT using cheese or bacon, in case you want to leave those ingredients out. Each keto biscuit is approximately 4 – 5 carbs.
For those of you are unfamiliar, the ketogenic (keto) lifestyle is a low-carb, high-fat/protein dietary approach aimed at inducing a metabolic state called ketosis. In ketosis, the body shifts from using glucose as its primary fuel source to burning fat and producing ketones. This lifestyle will produce weight loss, improved mental clarity, and enhanced athletic performance.
The keto lifestyle may not be suitable for everyone,  and certain adaptations have evolved over the years, but essentially, ti is a high fat/high protein and low carb diet. You might think of a meal as a steak with a salad (no pasta, no bread) –> this is just one idea. Seafood is allowed too. Regardless of what you eat for your protein, as a result of staying keto, people usually miss bread, so this biscuit is a satisfying option that fills that gap.
Ingredients for Keto Biscuits
1 and 1/4 almond flour (finely ground or some packages say "finely sifted")
1 TEA baking powder
1 TBSP arrowroot powder
3 TBSP cold butter, cut into about 8 small pieces
1 TBSP bacon bits
2 TBSP shredded cheese
2 egg whites (make sure to use just the whites) and lightly beat them
Optional: 1/4 TEA garlic-onion powder 
Directions
Preheat oven to 350 degrees. Grease a small baking sheet. This "keto biscuit" recipe only makes about 5 or 6 small biscuits! Mix together all the ingredients making sure to start out by 'cutting' the cold butter into the flour, and then put in all the other ingredients.  Form the biscuits with your hand in about 2″ biscuits.
These will not rise too much, they will stay in place for the most part. Bake at 350 for about 15 – 20 minutes until the top is lightly browned. Serve warm with melted butter on top!
If you like this recipe, and you have a keto lifestyle, you might enjoy these tasty biscuits with my Keto Clam Chowder.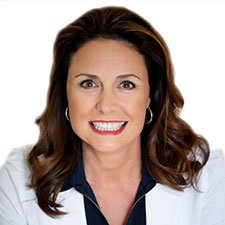 Suzy Cohen, has been a licensed pharmacist for over 30 years and believes the best approach to chronic illness is a combination of natural medicine and conventional. She founded her own dietary supplement company specializing in custom-formulas, some of which have patents. With a special focus on functional medicine, thyroid health and drug nutrient depletion, Suzy is the author of several related books including Thyroid Healthy, Drug Muggers, Diabetes Without Drugs, and a nationally syndicated column.