Ingredients for Feta Cheese Chicken Bake
4 large chicken thighs
Butter or oil to brown them (about 2 TBSP)
6-8 smaller tomatoes that can be quartered (alternatively, use cherry tomatoes that have been halved)
Santa Maria spice – 1-2 TBSP (alternatively, use onion garlic powder, or seasoning of choice)
1 cup feta cheese, broken into pieces or crumbled
1 small yellow or white onion, sliced
4 or 5 slices of butter on top for the baking process
Optional: Add another unique cheese such as Gruyère or Parmesan – approximately 1/4 cup and/or some basil on top!
Directions for the Feta Cheese Chicken Bake
First, preheat the oven to 400 degrees. Next, season the chicken thighs on both sides. Then brown the chicken for 3 minutes on each side in a large pan using butter or oil.
See my NOTE below about browning chicken.
After both sides are slightly brown, then transfer the partially cooked chicken and remaining oil from the pan into a roasting pan  (or glass baking dish) with sides. Add the tomatoes and onion around the chickens. Sprinkle with your feta cheese and/or optional cheese. Add a few slices of butter on top of the dish and some basil if you have it!
Bake at 400 for about 20 minutes until the cheese is bubbly.  Serve warm. 
This dish pairs well with a Fresh Tomato Basil Salad. 
Note: As for Santa Maria seasoning, this is something you can buy online or at a spice shop. I get mine locally at Savory Spice shop in Boulder, Colorado, however, there are many good brands available including THIS ONE which I found on Amazon. You can use it on the chicken thighs for this recipe (Feta Cheese Chicken Bake), or you can use it on chicken that you'd put on the grill, or really anything!
If you are trying to make Feta Cheese Chicken Bake and want to skip the browning of the chicken, you absolutely can, however, you'd have to increase your cooking time. You might miss out on some mouth-watering texture/flavor if you skip the browning step. But I've made it both ways and it's still very tasty!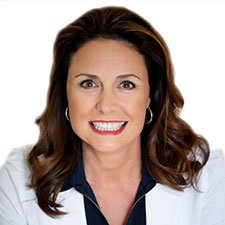 Suzy Cohen, has been a licensed pharmacist for over 30 years and believes the best approach to chronic illness is a combination of natural medicine and conventional. She founded her own dietary supplement company specializing in custom-formulas, some of which have patents. With a special focus on functional medicine, thyroid health and drug nutrient depletion, Suzy is the author of several related books including Thyroid Healthy, Drug Muggers, Diabetes Without Drugs, and a nationally syndicated column.