You can make hot dog mummies or sausage mummies, what you put into the dough is up to you. Either way, these are creepy, cute and perfect for the children during Halloween! Make sure you use edible eyes, and do not put them on BEFORE you cook them because they will melt.
Ingredients for the sausage mummies
1 package of Pillsbury crescent DOUGH SHEETS
6 hot dogs or 6 pieces of your favorite brat, or sausage (about 6 – 8 inches long)
Edible eyes
Optional: Egg wash for the crescent dough to help the sausage mummies turn lightly brown. 
Directions
Preheat oven to 350 degrees. While it's heating, open the package of crescent dough and cut it into 4 rectangles. Further, cut the dough into about 10 – 12 thin strips of dough. To assemble, just wrap the dough around each sausage (or hot dog). You can weave it in a different direction across itself, so it isn't too 'perfect.'
Just remember to leave space for the face/eyes, about a 1/2 inch. You may have to stretch the dough, alternatively, you may have to cut some depending on which brand of crescent dough you use. Also, some people have used cheese dogs for this recipe, and YES that will work too! If you are egg-washing the dough, do so prior to putting the cookie sheet in the oven. Bake for approximately 10 – 15 minutes (every oven is different) until the dough is very lightly browned.
Remove and apply the eyeballs, and serve with ketchup or your favorite condiment.
NOTE about the EYES – how much gore do you want? Do you want them to be adorable or creepy?
1) There is a creepy 'bloody' version here on AMAZON.
2) There is a regular version of eyes here on AMAZON.
3) I found them at my local grocery store too! They are most likely hanging in the baking aisle near the frosting!
TIP in case you want to make these ahead of time: Assemble the "sausage mummies" with the dough, and put on parchment paper on a baking sheet. Freeze them and once they are 100% frozen (about an hour or two), place them into a storage container. You can simply bake them that way (start frozen) and put them in the oven for 20 – 30 minutes!
If you like this recipe, forward it to someone else that would enjoy sausage mummies! If you want another kid-friendly recipe, try my Buttermilk Banana Bread with Chocolate Chips.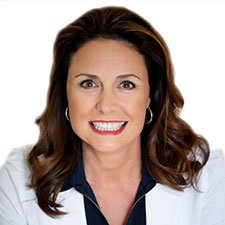 Suzy Cohen, has been a licensed pharmacist for over 30 years and believes the best approach to chronic illness is a combination of natural medicine and conventional. She founded her own dietary supplement company specializing in custom-formulas, some of which have patents. With a special focus on functional medicine, thyroid health and drug nutrient depletion, Suzy is the author of several related books including Thyroid Healthy, Drug Muggers, Diabetes Without Drugs, and a nationally syndicated column.