Mustard Greens are bitter so you can salt them or add bacon or prosciutto to the finished recipe. It will buffer the bitter flavor. If you are just getting used to the flavor of mustard greens, you can use more of the Swiss chard and just 3 or 4 leaves of mustard greens. This works because the Swiss chard has a very mild flavor relatively speaking. You'll get used to the flavor quickly, and then the next time you make it, use the ratio 50/50 each green.
Ingredients
2 Tbsp Tea-seed or olive oil or butter
1 small mustard greens, (about 1/2 lb), washed well and cut
1 small bunch of Swiss chard, (about 1/2 lb) washed well and cut
1 – 2 teaspoon of citrus juice (lemon or orange)
1/2 teaspoon of onion-garlic (dried) powder spice
Sea salt and pepper to taste
1 teaspoon minced garlic
1/3 cup grated Parmesan cheese
Optional: 2 tablespoons bacon bits

Directions
Wash the mustard greens and chard well. Place them in a large pot and cook on medium for a few minutes until they are fully wilted.
Alternatively – if you do not have a big enough pot – cook some of them until wilted, and continue adding more greens as room becomes available in your pot. Make sure it remains bright green, but that it is wilted. At this point, cook off the water if any remains at the bottom of your pot. (If there's a lot you can pour it off.) Then, add the oil (or butter) to your pot. I use a little of each because I like butter but also like the health benefits of tea seed oil. Sauté the rest of the ingredients: Garlic, dried spice of garlic-onion powder, a little citrus juice, sea salt/pepper and bacon bits if desired. Mix it well. Pour the Parmesan cheese on top and serve warm.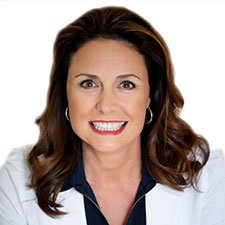 Suzy Cohen, has been a licensed pharmacist for over 30 years and believes the best approach to chronic illness is a combination of natural medicine and conventional. She founded her own dietary supplement company specializing in custom-formulas, some of which have patents. With a special focus on functional medicine, thyroid health and drug nutrient depletion, Suzy is the author of several related books including Thyroid Healthy, Drug Muggers, Diabetes Without Drugs, and a nationally syndicated column.