Ingredients
2 Tablespoons butter
2 pounds Arctic Char or Tilapia
1 tea sea salt and 1/2 tea pepper
1/2 tea Spanish paprika
1 tea onion-garlic dried powder (spice)
2 Tablespoons Grape seed oil, separated
1/4 cup yellow onion, chopped
2 garlic cloves, minced
3 sprigs of fresh thyme
Optional: 1 tea lemon zest or even lemon juice!
1 head of broccoli, washed, and cut into florets (about 4 cups)
2 – 3 slices of Sourdough bread, cut into small pieces.
3/4 cup shredded cheese (I use Mild cheddar or Gruyere)

Directions
Wash fish, pat dry and set aside. Preheat oven to 375 degrees. Grease a 9×13 inch glass baking dish, or 2 smaller round pie dishes. Cut fish into bite-size pieces and place the fish, as well as the broccoli florets into the baking dish. Sprinkle with sea salt, black pepper, Spanish paprika and onion-garlic powder.

Now, heat a non-stick skillet along with 2 of the tablespoons of grape seed oil. Simmer the chopped onion and garlic on medium-low for approximately 10 minutes. Add the thyme and optionally some lemon juice or zest, and cook until the onions are softened, and the mixture is lightly browned. Pour this warm mixture on top of your fish and broccoli. Place the bread pieces on top. (Alternatively, you could use bread crumbs). Pour the other 2 tablespoons of grape seed oil on top of the bread, and then sprinkle with your shredded cheese. You may top with more more paprika and salt/pepper if desired. Bake until the top is browned, about 25 minutes.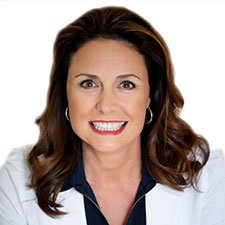 Suzy Cohen, has been a licensed pharmacist for over 30 years and believes the best approach to chronic illness is a combination of natural medicine and conventional. She founded her own dietary supplement company specializing in custom-formulas, some of which have patents. With a special focus on functional medicine, thyroid health and drug nutrient depletion, Suzy is the author of several related books including Thyroid Healthy, Drug Muggers, Diabetes Without Drugs, and a nationally syndicated column.