Ingredients
1-1/2 cup almond flour (100% blanched almonds)
1/2 teaspoon salt
1-1/2 teaspoon baking powder
3 eggs
3/4 cup Greek yogurt
3/4 cup Lt. Brown sugar
1/2 cup butter, melted
1/4 cup grapefruit juice
1 Tablespoon grapefruit rind/zest (alternative lemon)
1 teaspoon vanilla extract
Optional: 1/2 tea matcha powder but it will make the color very slightly green.

Directions
Preheat oven to 350 degrees and grease a loaf pan or 3 mini loaf pans. Mix together dry ingredients: Flour, salt and baking powder. If desired, add the matcha powder at this time and stir again. Set aside. In a large mixing bowl combine the rest of the ingredients: Eggs, yogurt, sugar, butter, juice, rind and extract. Mix or whisk until smooth and consistent. The brown sugar might be lumpy so be sure to check it for lumps. Then pour it into the dry ingredients and stir well. Pour into loaf pan(s) and bake for 35-45 minutes. Alternatively, you can use an 8 x 8 glass baking dish or muffin tins as desired. Garnish with something sweet like strawberries. If desired, drizzle with honey. Yummmmm…..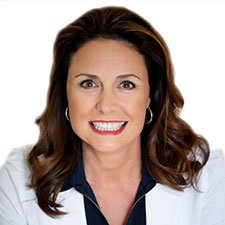 Suzy Cohen, has been a licensed pharmacist for over 30 years and believes the best approach to chronic illness is a combination of natural medicine and conventional. She founded her own dietary supplement company specializing in custom-formulas, some of which have patents. With a special focus on functional medicine, thyroid health and drug nutrient depletion, Suzy is the author of several related books including Thyroid Healthy, Drug Muggers, Diabetes Without Drugs, and a nationally syndicated column.