To make the crust
1 cup rice flour
1/2 cup ground gingerbread cookies (turn it into flour)
1/4 cup confectioner's sugar
1 tea cinnamon
1 stick butter, melted
To make the brownies
If you're in a hurry you can make brownies from a mix and add 1 tea ground ginger. If you want to make your own brownies, you will need:
3/4 butter, melted
1 cup brown sugar
1/2 cup confectioner's sugar
1/2 cup cocoa powder
2 tea vanilla extract
3 large eggs
1 tablespoon hazelnut butter
1/2 cup plain flour (all purpose or rice)
1 tea cinnamon
1/2 tea ground ginger
1 cup dark chocolate semi sweet chips
3/4 cup hazelnuts (chopped) reserve 1/4 to sprinkle on top
Directions
Preheat the oven to 350 degrees and oil your 9×9 or 8×10 baking dish. Make your crust first by mixing the flour, ground gingerbread cookies, sugar, cinnamon and melted butter. When it is the consistency of cookie dough, press it into your baking dish. You will be putting your brownies on top.
If you're in a hurry, you can prepare chocolate brownies using a commercial brownie mix, then pour that on top of your crust. If you do this, just add 1 tablespoon of hazelnut butter to it, and 1/2 tea ginger.
If you're making these using my recipe, you will first whisk together your melted butter and sugar, then add vanilla, hazelnut butter, eggs and stir constantly. Then add cocoa powder, flour, ginger and cinnamon.
When well combined, add the chocolate chips and 1/2 cup hazelnuts.
Pour this over the cookie crust and bake for 35 to 45 minutes (depending on your oven). They are done when they are cooked through and through. Once cooked, turn off the head, but leave them in the pan to cool for about an hour and drizzle with 1/4 cup hazelnuts.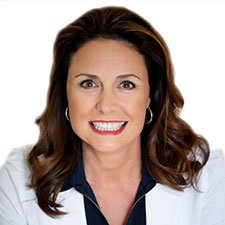 Suzy Cohen, has been a licensed pharmacist for over 30 years and believes the best approach to chronic illness is a combination of natural medicine and conventional. She founded her own dietary supplement company specializing in custom-formulas, some of which have patents. With a special focus on functional medicine, thyroid health and drug nutrient depletion, Suzy is the author of several related books including Thyroid Healthy, Drug Muggers, Diabetes Without Drugs, and a nationally syndicated column.