This recipe is best made if you have a Vitamix or other high powered blender because it will saves you so much time in cooking. You can do this even without a Vitamix, but you would need to boil the apples for a long time and then use an Immersion blender to puree the apples until smooth and no chunks remain. It's much easier with a strong blender, here's what I use:
Ingredients
1/2 cup apple cider
8 to 10 organic apples, quartered, remove stem/core but keep the skin
1 teaspoon allspice
1/4 cup brown sugar
1/4 cup turbinado sugar
1 tea ground cinnamon
Pinch of ground cloves
1 vanilla bean
Directions
Place apple cider (cider, NOT vinegar!) and apples in the Vitamix and turn the machine on quickly increasing speed to about 5 until everything is chopped.
You may need to shift the fruit a couple of times until everything is chopped well. At this point, turn up to high and blend for 1 to 2 minutes until your mixture is smooth. Pour the apple mixture into your crock pot and add the allspice, sugar, cinnamon, cloves and a vanilla bean.
Sweetness levels vary from person to person. I like much less sugar than most, so I don't even add the brown sugar, but you might like it sweeter than I do. Do a taste test during the crock pot cooking phase (maybe around hour 3) and if it's not sweet enough for you, add more sugar and continue slow cooking.
Cook this on high for 3 to 4 hours (or low for 8 hours which is what I do because the smell is AMAZING!). It's better slow cooked for a long time (versus quickly boiled in a regular pot) so that the natural sugar in the apples can caramelize and turn the sauce a appetizing, dark (and rich) brown-coloredd "butter.

When cooked, turn off the heat and be sure to remove the vanilla bean. If you like the texture a little chunky, you are done. If you feel like your apple butter is too thin, and you want to thicken it… it just has to be reduced more. You can do that in a regular pot if it's really wet, but it shouldn't be.
Some people like to make Apple Butter a different way, but essentially pouring everything into the slow cooker at first, and then using a Vitamix or preferably, an Immersion blender AFTER it is cooked. That's totally fine.
Scoop the apple butter into mason jars to store!
Spread on your muffins or toast, or put on top of ice cream.
You can freeze apple butter in jars too! It makes a great gift for your  neighbors and friends!
Apple butter uses apple cider, a tasty drink that's easy to find around the holidays. But many of you have heard of (and maybe eat?) Apple Cider Vinegar or ACV for short.  I have an article you might be interested in READING that is entitled, Apple Cider Vinegar, A Cure for Everything?
ACV is derived by crushing apples to get the juice out and then adding bacteria and yeast to ferment it.  This process converts the sugars to alcohol. In a second fermentation step, the alcohol is turned into vinegar.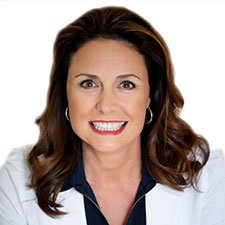 Suzy Cohen, has been a licensed pharmacist for over 30 years and believes the best approach to chronic illness is a combination of natural medicine and conventional. She founded her own dietary supplement company specializing in custom-formulas, some of which have patents. With a special focus on functional medicine, thyroid health and drug nutrient depletion, Suzy is the author of several related books including Thyroid Healthy, Drug Muggers, Diabetes Without Drugs, and a nationally syndicated column.