Ingredients for Almond Brownies 
2/3 cup cocoa powder
3/4 cup all purpose flour
1 cup evaporated cane sugar
1/2 cup confectioners powdered sugar
1/4 TEA baking powder
3/4 TEA salt
1/4 cup dark chocolate chunks
1/4 cup semi-sweet chocolate chips
1/2 cup oil (I like to mix different oils together, like 1/4 cup grape seed and 1/4 cup macadamia nut oil)
2 large eggs
1 TEA vanilla extract
1/2 TEA almond extract
2/3 cup thinly sliced almonds
NOTE: I made this again recently, and this time I left out the almond extract entirely, doubled the vanilla extract to 2 TEA, and then I used chopped walnuts adding in 1 cup of those (instead of the sliced almonds). I think it was absolutely delicious and truly the PERFECT BROWNIE, so if you're not a fan of almonds, try this instead!


Directions for delicious brownies
Preheat oven to 350 degrees. Grease a 9″ x 9″ brownie pan.
Mix the dry ingredients together (the first 6 ingredients). Stir it well with a spatula or a large whisk so it's combined nicely and not lumpy. Add both chocolate chips. (If you only have one kind of chocolate chip that's fine, I only combined mine because the dark ones are very bitter). Next, in a small mixing bowl, lightly blend the eggs with the oil and both flavored extracts. Then combine the wet with the dry ingredients and add your almonds.

Bake brownies for approximately 25 minutes or until a toothpick comes out clean. When you remove them, they will be will a little gooey, so you MUST let them sit and settle for an hour so they can harden and you can slice them easily. It makes 16 brownies.
Click here for another delicious recipe of mine –Gingerbread Chocolate Brownies with Hazelnut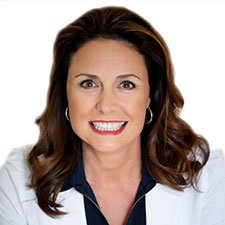 Suzy Cohen, has been a licensed pharmacist for over 30 years and believes the best approach to chronic illness is a combination of natural medicine and conventional. She founded her own dietary supplement company specializing in custom-formulas, some of which have patents. With a special focus on functional medicine, thyroid health and drug nutrient depletion, Suzy is the author of several related books including Thyroid Healthy, Drug Muggers, Diabetes Without Drugs, and a nationally syndicated column.