Before the recipe (below) I want to tell you why I chose this blend of herbs. From a medicinal standpoint, and of course the research is available on pubmed for this:
1. Rooibos is known to help with microvascular complications and ease blood through the capillaries.
2. Vitamin C from the orange peel is good for elasticity of the blood vessels.* (If you'd like a free sample bottle of vitamin C, please CLICK HERE because I have some mini bottles available).
3. Hawthorn has well-documented effects on the entire cardiovascular system. If the flavor is not sweet enough on its own, add honey, or agave, or sugar. May be served iced, or hot. Interested in more information on Hawthorn? I write THIS ARTICLE about it.

Ingredients
2 TBSP dried hawthorn berries
1 TBSP dried orange peel
1 TBSP Rooibos herb
About 6 cups water
Optional: Oil such as grape seed

Directions
There are many ways to make this "tea" and the simplest is probably this way: Put the herbs in a Mason jar that is large enough to hold 6 cups of water. Pour hot water over the herbs and let steep for about 4 to 6 hours. The water will turn red. You can then strain all the berries out and discard. Chill the tea, it will keep in the fridge for a few days. You can drink a cup per day if desired. Another way, and this is the way I usually do it is to put a put on the stove with the 6 cups of water and all the herbs. Add a teaspoon of oil (for example coconut or tea seed, or grape seed). Heat it to a very gentle simmer and let it simmer for 30 minutes and then strain off the herbs. Pour the finished tea in your Mason jar.
You might be wondering WHY the oil??? The fats in the oil that you add bring out the lipophilic constituents of the herb, adding even more goodness to your medicinal cup of tea! The type of oil doesn't matter, you can add 1/2 or a whole teaspoon, that part doesn't matter much either. The goal is to extract more healthy parts of the herb and the addition of a 'fat' will do that to any tea. Sweeten as desired. Drink about a cup a day, or if you're starting out, try a shot glass full each day! But not at night because this herb is a diuretic.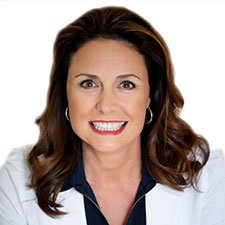 Suzy Cohen, has been a licensed pharmacist for over 30 years and believes the best approach to chronic illness is a combination of natural medicine and conventional. She founded her own dietary supplement company specializing in custom-formulas, some of which have patents. With a special focus on functional medicine, thyroid health and drug nutrient depletion, Suzy is the author of several related books including Thyroid Healthy, Drug Muggers, Diabetes Without Drugs, and a nationally syndicated column.