Ingredients of Herb Roasted Lamb Chops
5 garlic cloves, minced
2 teaspoons thyme, chopped
2 teaspoons fresh rosemary, scissored/chopped
1 tablespoon fresh chives, scissored/chopped
1/2 tea garlic onion powder
1/2 tea dried parsley (or 1 tablespoon fresh parsley)
2 tablespoons organic grape seed oil
Sea Salt and Pepper to taste
6 to 8 lamb chops (washed, keep on the bone)
Directions
Mix together the first 6 ingredients (all the herbs) with 1 tablespoon of the grape seed oil and spread this on the lamb chops. Allow to marinate for 30 minutes to an hour in the fridge. Preheat the oven to 375 degrees and while it's heating up, heat a cast iron skillet on the oven with the other tablespoon of oil. Add lamb to the skillet until browned on both sides, approximately 2 to 3 minutes on each side, then transfer to a cookie sheet or glass baking dish and cook to desired doneness at 375 degrees.
This may take about 10 minutes for medium, but every oven is different. Garnish with fresh thyme or rosemary. Alternatively, you could grill the lamb chops, either way, the rich delicious flavor of the herbs will come through so long as they are not over-cooked on the outside.
NOTE: I mentioned grape seed oil above, and perhaps you don't know this but grapes are a superfood. In fact, grape seed extract and grape juice have many health benefits. Read my other article, How Grape Juice Helps Shortness of Breath and Heart Disease.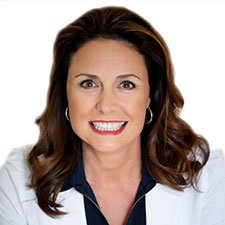 Suzy Cohen, has been a licensed pharmacist for over 30 years and believes the best approach to chronic illness is a combination of natural medicine and conventional. She founded her own dietary supplement company specializing in custom-formulas, some of which have patents. With a special focus on functional medicine, thyroid health and drug nutrient depletion, Suzy is the author of several related books including Thyroid Healthy, Drug Muggers, Diabetes Without Drugs, and a nationally syndicated column.