These are so easy and an absolute sensation with the kids! You'll wonder why you never made these in prior years. I'm keeping it simple here and not listing an actual recipe for the cupcake/muffins OR the frosting because so many of you have your own recipe due to dietary restrictions. For example, if you have a gluten-free recipe for the muffins, please use that, or a dairy-free recipe for frosting, please use that. You can buy these commercially too, at any grocery store.

You will need to make or buy:
24 Christmas-themed muffin/cupcake liners
1 box of chocolate cupcake mix (Use whatever you like, ie gluten-free)
1 can of white vanilla or cream cheese frosting
For the antlers – A bag of thin pretzels (curvy ones, not straight)
For the nose – Either red M&Ms or red Jelly Beans, or even a grape
For the eyes – Either chocolate chips or edible "candy eyeballs"

Directions
Preheat your oven to the temperature designated on your cupcake or muffin mix. Make the cupcakes and pour the batter into the pan, using the Christmas-themed muffin liners. Let them cook for an hour, then top with your frosting. Top generously with the frosting. Next, the fun part!

Use either M&Ms or red Jelly Beans or 1/2 of a cut grape to make the nose. Stick it firmly into the frosting. Next, put the eyes on using either chocolate chips or edible "candy eyeballs." Finally break the pretzels in half, and place the antlers on. That's the trickiest part because they don't always break nicely.
NOTE: Do not decorate with real Holly boughs because the berries are toxic. Use plastic holly or some other decorative ribbons or greenery. Only the cupcakes are edible in my photo.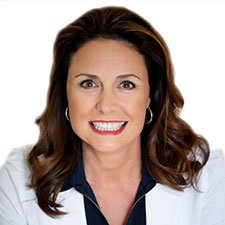 Suzy Cohen, has been a licensed pharmacist for over 30 years and believes the best approach to chronic illness is a combination of natural medicine and conventional. She founded her own dietary supplement company specializing in custom-formulas, some of which have patents. With a special focus on functional medicine, thyroid health and drug nutrient depletion, Suzy is the author of several related books including Thyroid Healthy, Drug Muggers, Diabetes Without Drugs, and a nationally syndicated column.