Homemade Vanilla Eggnog
Ingredients
6 egg yolks
1/4 cup light (or golden) brown sugar, packed
1/4 cup evaporated cane
1 cup heavy whipping cream
2 cups whole milk
1/2 TEA vanilla extract
1/4 TEA ground nutmeg – see my note below
1/16th of a spoon salt (commonly termed a "pinch of salt")
Optional: 1/2 TEA dried vanilla powder spice)

NOTE: Regarding the nutmeg, if you can get the whole nutmeg 'ball' please do, and grate one of them with a lemon zester tool until you have your own freshly ground nutmeg. Fresh does make a difference. If you don't have the whole nutmeg to grate, just use the regular powdered spice. Don't overdo the nutmeg, it has psychoactive effects! I wrote an ARTICLE about that due to a dangerous TikTok challenge that is prompting people to go nuts on nutmeg!

Directions for delicious vanilla eggnog
Whisk together the 6 egg yolks with the 2 types of sugar. Set aside this blended egg yolk mixture.

In a medium-size saucepan, heat up the whipping cream, and milk, and all the other spices/ingredients. Continuously whisk it all together. Heat it on medium-low, and almost to the point of boiling but not quite. It doesn't look like a whole lot just yet, but be patient. (See my picture here, it is just about to the point of boiling).
Before it boils, use a small ladle, and take some of the very hot milk mixture (basically one ladle at a time) add it to the blended egg yolk mixture in the bowl you set aside. Keep adding more milk to the yolk (you're just tempering the eggs) until you've almost emptied your saucepan into the egg yolks, and whisk it nicely together until you have smooth vanilla eggnog.
Now do the reverse, pour the mixture you just made back into the saucepan and continue heating it until it thickens, about 3 – 5 minutes. If you can evaluate the temperature, it's something like 170 degrees. Once you've achieved this, allow it to cool on the stove, or in a mason jar, with some plastic wrap (or foil) on top of it. When it's cooled down, move the mason jar to your refrigerator and chill for 3 – 4 hours.
Sprinkle your vanilla eggnog with cinnamon or a dash of fresh whipped cream. For a boozy option, free to spike it with bourbon, brandy or even Chambord® cherry liqueur.
Voila you now have a wonderful homemade vanilla eggnog.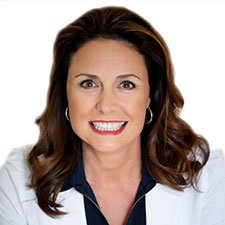 Suzy Cohen, has been a licensed pharmacist for over 30 years and believes the best approach to chronic illness is a combination of natural medicine and conventional. She founded her own dietary supplement company specializing in custom-formulas, some of which have patents. With a special focus on functional medicine, thyroid health and drug nutrient depletion, Suzy is the author of several related books including Thyroid Healthy, Drug Muggers, Diabetes Without Drugs, and a nationally syndicated column.