Ingredients for Slow Cooker Roasted Turkey
2 turkey thighs, washed and patted dry
2 turkey breasts, washed and patted dry
*Giblets if you have them
6 TBSP butter, softened
1 TBSP thyme, I used fresh but you can use dried too
1 TBSP parsley, also used fresh
1 TBSP rosemary, fresh
1 TEA onion garlic powder
NOTE about *Giblets: If you don't know what those are, visit the Food Network to learn what they are. 


Directions 
In a small bowl mix the soft butter with the herbs (and feel free to substitute any herbs you like for what I've listed here. Sage and oregano are good options/additions.) Reserve half of this herbed butter mixture because you will need to roast the turkey at the end of its cooking time.

First, you will rinse the turkey pieces well, and pat dry. Rub them with half of the herbed butter mixture. Place in your slow cooker with about 4-6 cups of water. Turn it on to "high" if you need to cook it fast but "fast" means about 4 – 5 hours.
Turn it on low and cook overnight (my preference at home). Shortly before serving the roasted turkey, turn your oven to broil, carefully remove the turkey from the slow cooker, and put it in a roasting pan. You're going to char the skin for a minute! 
Rub the rest of the herbed butter that you saved, and make sure it is nicely covered/oiled. Broil the turkey pieces for about 5 – 10 minutes watching it all closely –> you are looking for a nice sear on the outside! Remove and serve with your other side dishes such as mashed potatoes and cranberry sauce.
If you enjoy this Slow Cooker Roasted Turkey, then check out my super delicious Chargrilled Lemon Chicken Click Here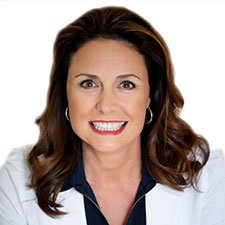 Suzy Cohen, has been a licensed pharmacist for over 30 years and believes the best approach to chronic illness is a combination of natural medicine and conventional. She founded her own dietary supplement company specializing in custom-formulas, some of which have patents. With a special focus on functional medicine, thyroid health and drug nutrient depletion, Suzy is the author of several related books including Thyroid Healthy, Drug Muggers, Diabetes Without Drugs, and a nationally syndicated column.