Depending on the various brands out there, the main difference between skyr and yogurt is that the skyr has a richer assortment of vitamins and minerals, plus it is usually lower in sugar, carbohydrates and fats compared to most yogurt. It's also typically higher in protein. I first found out about skyr when I went on a vacation to Iceland in the early 2000's. Later, it was brought to the United States and today, I see it at all the grocery stores. If for some reason, you prefer Greek yogurt, or even cottage cheese, feel free to exchange that in this easy dessert recipe.

Ingredients
1 jasmine green tea bag
2 TBLS of hot water
2 cups of fresh, ripe, delicious strawberries
2 cups of skyr, plain
Sprigs of mint leaves for garnish

Directions
Steep the tea bag in a bit of hot water (about 2 tablespoons) for 5 minutes then remove the tea bag. You now have infused jasmine water which you can pour into the 2 cups of plain skyr. The rationale for this is to add a powerful anti-cancer antioxidant to the dessert. Don't worry about caffeine, there's next to nothing in this. (Alternatively, you can use white tea, peppermint tea, or some other caffeine-free herbal tea of your choice).

Prepare the strawberries just before you make this dish but rinsing them with a gentle spray of cool water and then slicing them in half (remove the caps/stems). Place them as shown in my picture in your dessert dish facing outward and then scoop some skyr inside the dish to hold them in place. You might need a helper to do this. Once arranged, garnish with peppermint leaves. This is a delicious, fresh and zesty dessert that is quick and easy to make for a summer gathering.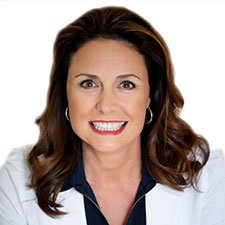 Suzy Cohen, has been a licensed pharmacist for over 30 years and believes the best approach to chronic illness is a combination of natural medicine and conventional. She founded her own dietary supplement company specializing in custom-formulas, some of which have patents. With a special focus on functional medicine, thyroid health and drug nutrient depletion, Suzy is the author of several related books including Thyroid Healthy, Drug Muggers, Diabetes Without Drugs, and a nationally syndicated column.