This sauce is refreshing and full of antioxidant power. The lemon juice contains a lot of vitamin C and the dill contains carvone, which gives it that aroma. This "carvone" is also present in caraway, as well as spearmint essential oil. Dill also contains α-phellandrene, limonene, dill ether and myristicin. Finally, the avocado oil is a wonderful, mildly-flavored oil that is rich in monounsaturated fats. Those fats in particular have been linked to reducing LDL cholesterol. You can use this sauce on salmon, chicken or pasta. If it's too zingy when you make it, add more sour cream to tone it down. Remember though, that a taste off the spoon is going to be more sharp versus when it's mixed all throughout your pasta.
Ingredients
3 TBSP dijon mustard
3 TBSP fresh lemon juice
1 TBSP sour cream
2 TBSP finely chopped fresh dill
3 small cloves garlic (~ 2 teaspoons)
1/2 TEA salt
Dash of pepper
1/3 cup avocado oil (or mild-flavored olive oil)

Directions
Whisk together all the ingredients and stir until smooth. I usually have pasta prepared because that's how I like to use this sauce most. So have about 4 to 5 cups of cooked pasta prepared and pour this sauce over the top and heat it to simmer. You can add small pieces of chicken, or even bacon or mushrooms – really anything you like.
I crave this sauce sometimes, it's so zingy and fresh and lighter than a cheese sauce! I decided to jot down the ingredients this time so I could share it with you officially. By the way, my featured image above contains thick turkey deli meat which was all I had in the fridge when I made it, and I just cut it into the pasta along with a fresh Heirloom tomato. This sauce can be made ahead of time and stored in the refrigerator for 3 days.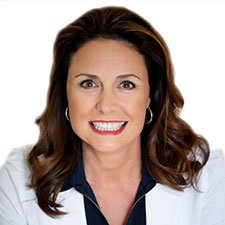 Suzy Cohen, has been a licensed pharmacist for over 30 years and believes the best approach to chronic illness is a combination of natural medicine and conventional. She founded her own dietary supplement company specializing in custom-formulas, some of which have patents. With a special focus on functional medicine, thyroid health and drug nutrient depletion, Suzy is the author of several related books including Thyroid Healthy, Drug Muggers, Diabetes Without Drugs, and a nationally syndicated column.