Ingredients
1 cup steel cut oatmeal
4 cups water
1/4 tea salt
1/2 cup blueberries
1/4 cup honey
2 to 4 teaspoons raw cane sugar
Apricot or strawberry preserves or grape jelly (choose your favorite jam/jelly)
1 Tablespoon almond butter
1 tea hemp seeds
Optional: 1/4 cup maple-glazed almonds
Optional: 1/4 cup heavy cream
Directions
You make the oatmeal according to directions on the package, usually you have to bring the water to a boil along with a little salt, then add the oatmeal. Simmer (uncovered) on very low heat, and stir constantly with a whisk until thickened. I tend to add water if necessary until the oats are soft and puffy. When I have the consistency I like, I add a big squeeze of honey, about 1/4 cup, but it's really up to you. Now add about 2 to 4 teaspoons of plain sugar. (I don't like mine too sweet plus I add preserves or jelly at the end so it's perfect).
Then add the heavy cream and whisk that in. If I'm adding walnuts or other nuts to mine, this is the time I add them in too, because doing so while it's gently simmering allows them to soften a little (as opposed to putting them on top of the oatmeal where they'll be harder). It's up to you. Now add your blueberries (or raspberries if you prefer those, or if you need help with 'female' or PMS issues). Just stir them in.
Serve up a cup of oatmeal in a pretty dish. Now, spoon some almond butter on one side of the dish and the apricot preserves right next to it. It's kind of like peanut butter and jelly oatmeal! Sprinkle the hemp seeds on top. When you're all done, you can add a dash more of cream on top just to make it wetter and perfectly delish! Serve immediately. Makes about 4 to 6 servings.
If you re-heat it, make sure to add water to the pot to make it soft again.
CLICK BELOW to watch my video as I make the Ultimate Bowl of Oatmeal!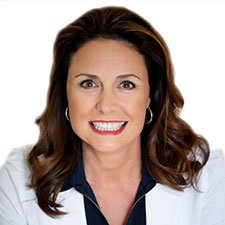 Suzy Cohen, has been a licensed pharmacist for over 30 years and believes the best approach to chronic illness is a combination of natural medicine and conventional. She founded her own dietary supplement company specializing in custom-formulas, some of which have patents. With a special focus on functional medicine, thyroid health and drug nutrient depletion, Suzy is the author of several related books including Thyroid Healthy, Drug Muggers, Diabetes Without Drugs, and a nationally syndicated column.