Pumpkin is a strong anti-inflammatory food when it comes to reproductive health. It's also delicious to incorporate into a cheesecake as you will soon see! If you'd like to learn more, click on my article, The Top 10 Reasons to Eat Pumpkins and Seeds.
Ingredients for the Pumpkin Cheesecake Crust
1 1/2 cups graham cracker crust
6 TBSP melted butter UNsalted
1/2 TEA cassia cinnamon
1/4 TEA dried nutmeg
1 TBSP golden brown sugar
For the Cheesecake Filling
1 1/2 lb cream cheese (this is 3 regular packages 8oz blocks)- do not use the tubs – warm to room temperature
1 cup light brown, or golden brown sugar, packed
1/2 cup evaporated cane sugar
1 can pure pumpkin filling
4 eggs
1/3 cup sour cream
2 TBSP all purpose flour, leveled
1/4 tea salt
1/2 TEA dried vanilla powder
1 TBSP vanilla extract
2 TEA pumpkin pie spice
Directions
Preheat the oven to 350 degrees. First make the crust by combining all the ingredients for that. It will form a moist, crumbly mixture. Grease either 5 mini cheesecake springform pans (my preference so I can share them!), or 1 standard 9″ springform pan. Push the crust down onto the bottom of the pan, and a little ways up the side. Bake for about 6 to 8 minutes. Turn down the temperature to 325 degrees.

While it is baking prepare the filling. I use a stand-up mixer like a Kitchen-Aid® or equivalent, with the regular mixer attachment on it. First put the cream cheese in with both sugars and blend for 2 minutes. Add the rest of the ingredients and continue to mix on low for a couple of minutes until everything is smooth and consistent. Scrape the blade and the sides of the bowl as necessary. Pour the pumpkin batter into the springform pans with the already-baked crust.

In your oven (which should now be 325 degrees), place a large baking dish (for example a 9 x 13 size) on the lower rack with 4 cups of water in it. This is to keep the oven nice. It's too complicated to make a hot water bath which many expert chefs suggest you do. This is a hack! Just keep the water-filled baking dish filled on the lower level while you cook the cheesecakes on the (regular) middle rack above it. Bake the cheesecake at 325 degrees for about 45 minutes or until the top is very light golden brown. It will be jiggly in the middle – it's supposed to be.
Remove from the oven carefully and let set on the counter for about 20 minutes, then cover put in the refrigerator to chill for at least 3 hours, preferably 6 hours, or overnight. Remove from springform pan and serve with the topping of your choice – for example, some confectioner's sugar sprinkled on top, or some cinnamon sprinkles, or fresh whipped cream… maybe amaretto frosting or toasted pecans. Mmmm!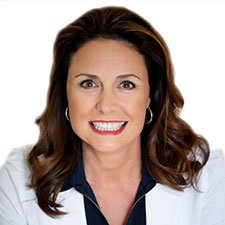 Suzy Cohen, has been a licensed pharmacist for over 30 years and believes the best approach to chronic illness is a combination of natural medicine and conventional. She founded her own dietary supplement company specializing in custom-formulas, some of which have patents. With a special focus on functional medicine, thyroid health and drug nutrient depletion, Suzy is the author of several related books including Thyroid Healthy, Drug Muggers, Diabetes Without Drugs, and a nationally syndicated column.