Ingredients
2 1/2 cups watermelon, small chunks or balled
1 cup cucumber
2 ribbon cut (or chopped) mint leaves
1/4 cup grape seed oil or tea seed oil
1 tea apple cider vinegar
About a TBSP honey
1 tablespoon lemon (or lime) juice
1/2 cup feta cheese crumbled
Optional: 1 tablespoon thinly sliced red onion
Salt/pepper if desired

Directions
Clean your fruit and vegetables and put into a bowl. Gently stir in the mint leaves and red onions if you're using them. In another small bowl, make the dressing. To do so, whisk together the grape seed oil, vinegar, honey and lemon juice. Pour dressing over the salad and toss to coat. Sprinkle with the feta cheese and serve chilled. Garnish with more mint if desired. May season with salt/pepper if desired (this will cut down on the sweetness).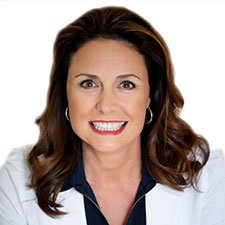 Suzy Cohen, has been a licensed pharmacist for over 30 years and believes the best approach to chronic illness is a combination of natural medicine and conventional. She founded her own dietary supplement company specializing in custom-formulas, some of which have patents. With a special focus on functional medicine, thyroid health and drug nutrient depletion, Suzy is the author of several related books including Thyroid Healthy, Drug Muggers, Diabetes Without Drugs, and a nationally syndicated column.