If your skin craves moisture above all else, this ultra-hydrating recipe will work wonders. It combines four types of butter within one batch, and it's a stellar option for use on sensitive skin.
NOTE: Some people don't like the 'herbalish' smell of essential oils, so you can leave them out entirely or try just 5 drops in total and combine a drop or two of essential oils like jasmine, lavender, juniper, lemongrass, rose, bergamot or neroli.
Ingredients
1/2 cup shea butter
1/2 cup mango butter
1/2 cup olive oil
1/2 cup coconut oil
Optional: 12-20 drops of essential oil (your choice)
I use 10 drops jasmine, 3 drops lemongrass and 3 drops of neroli to make mine but you can experiment.
Directions
Measure your oils/butter and drop them all together into a double boiler. Warm slowly over low heat. Stir continuously until all the oils have melted, then remove your pan from the heat.
Add your essential oils as desired. Put the blend into the fridge for an hour. You should keep checking it, because you will take it out just as it begins to set/harden, but is still soft and pliable.
With a hand mixer, whip the batch for five to ten minutes until it becomes fluffy, stopping periodically to scrape the bowl. Set it back in the fridge for another fifteen minutes. After it sets and cools you can whip it again. Use a spatula to put it into a pretty glass cream jar (container). It's best to store your whipped butter in a glass jar over plastic due to the plasticizers. It should stay fluffy at any temperature less than 75 degrees.
Apply to skin as directed.

If you like natural hacks to beauty problems like dry or itchy skin, puffy eyes, dark circles and more, click below to get  my FREE ebook. I will also share several other 'recipes' to get gorgeous fast!
If the topic of homemade, natural (and safe) skin creams is of interest to you, please take a moment to read my article, Luxurious Body Creams that Won't Cause Cancer.
CLICK LIKE to FOLLOW Suzy Cohen – Get Important Health Tips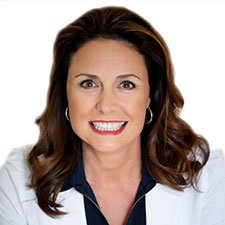 Suzy Cohen, has been a licensed pharmacist for over 30 years and believes the best approach to chronic illness is a combination of natural medicine and conventional. She founded her own dietary supplement company specializing in custom-formulas, some of which have patents. With a special focus on functional medicine, thyroid health and drug nutrient depletion, Suzy is the author of several related books including Thyroid Healthy, Drug Muggers, Diabetes Without Drugs, and a nationally syndicated column.