This banana cream pie is so delicious it doesn't even need cream on top!
I have made this a few times and decided that the crust is what makes this pie! Also the custard – it's CRITICAL to make the custard (which is the pie filling) from scratch. That's why I call it the "best banana cream pie in the world" it's delicious because it does not use pudding mix which is what almost all pie recipes call for.
That pudding mix is not something I chose to use here because it contains artificial colors and flavors in it. So in this recipe, you will be making 100% genuine custard, and trust me you can taste the difference in a banana cream pie! It's worth your effort.  Some people are intimidated at the thought of making custard, and I get that. But if you can use a whisk, you can make custard! Just try it, follow my directions to the T.
Ingredients for the banana cream pie filling
1-3/4 cup milk
1/2 cup "heavy whipping cream" (or half and half will work if you don't have the heavy cream)
1/2 cup cane sugar
1/8 TEA salt
4 egg yolks, large
1/4 cup cornstarch
1 TEA vanilla extract
1 TEA banana extract
Optional:  Sprinkles of cinnamon
2 bananas, ripe, sliced
You will need a porcelain pie dish/plate
Ingredients for the graham cracker crust

1-1/2 cup graham cracker crumbs (you can smash your own crackers like I do – to keep them slightly more chunky- or you can buy commercial ground-up graham crackers – either works)
1/4 cup light brown sugar
1 TBSP of honey
1/2 cup chopped nuts (I used pecan for this recipe)
1 TEA vanilla extract
1 TEA banana extract
About 4 TBSP melted butter
(Mixing this all together makes a nice crust, it should not be 'wet' but it also should not be too dry. You need to be able to press this into the pan you're using and make the crust.) If you'd like to see more, click to see the Perfect #1 Graham Cracker Crust.
Note about Whipped Cream – We make our own whipped cream and have it in the refrigerator all the time! Sam bought this cool whipped cream charger on Amazon. But if you don't want to go to this extent, buy some commercial canisters of whipped cream, or some Cool Whip® instead, it saves a lot of time.
Directions to make the Banana Cream Pie 
First make the custard, to do so pour the milk and cream into a medium size stock pot, or something like a Le Creuset® coated pot. Heat on medium high and while it's heating, pour in the sugar and salt, and whisk it carefully, every 15 to 30 seconds. Do not let it scald. While that's happening, get a mixing bowl, and pour the cornstarch into the 4 egg yolks and gently stir that together so it is creamy/consistent in texture.
When your milk/cream mixture in the pot has started to simmer, turn it off. Now, take about 1/2 cup milk mixture out of that pot and gently (very slowly) pour it into the egg yolk mixture in your mixing bowl. You want to use the hot milk because it will temper the egg yolks. If you fail to do this properly, or you skip this step and dump the egg yolks into the hot milk, you will essentially be making scrambled eggs instead of a custard!
Once the egg yolks and this small amount of hot milk have been blended, you can now pour that egg yolk mixture into the simmering pot (which is on low now). Continue to whisk it continuously for a moment, making sure it is smooth and creamy. Add the vanilla and banana extract, as well as the butter. Whisk it all together. Set it aside so it can cool off.
To make the crust, heat the oven to 350 degrees. Next, mix together all the ingredients listed above for the crust. Press the crust into a beautiful ceramic pie dish if you have that. If not, you could use a pie tin, or a glass casserole dish.  Bake at 350 degrees for 15 – 20 minutes.
Once the crust is made, and it is the BEST part, you will now do some assembling. It's really simple to make a banana cream pie look nice.
Slice the 2 bananas thinly, and lay them on top of your cooked pie crust. Sprinkle with cinnamon. Pour the custard into it next, covering all the bananas. It's ready to be chilled now, which should take about 3 to 5 hours. To prevent the top from developing a 'pudding skin' on top, put some plastic wrap on the top of the pie so it's touching the custard, that's fine.
Once it's cooled, you will remove the plastic wrap and add a layer of whipped cream if desired. Enjoy and share with a friend. This banana cream pie is the best in the world, you can be proud to take it to serve it at a dinner party, or drop off at your brand new neighbor's house!
If you love bananas, you might want to try my Buttermilk Banana Bread with Chocolate Chips. It's truly the best recipe for banana bread!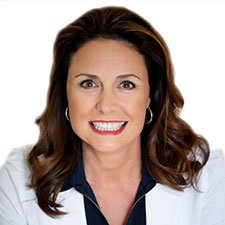 Suzy Cohen, has been a licensed pharmacist for over 30 years and believes the best approach to chronic illness is a combination of natural medicine and conventional. She founded her own dietary supplement company specializing in custom-formulas, some of which have patents. With a special focus on functional medicine, thyroid health and drug nutrient depletion, Suzy is the author of several related books including Thyroid Healthy, Drug Muggers, Diabetes Without Drugs, and a nationally syndicated column.