Ingredients for the Broccoli Bacon Salad 
6 cups, washed, clean broccoli florets (about 1 head) no need to cook, but if you want, very lightly steam.
1/4 cup red onion, chopped
1/2 cup cooked bacon, chopped
1/2 cup Craisins® which are dried cranberries (or alternatively use golden raisins)
1/4 cup sunflower seeds, or pumpkin seeds
Optional: 1/4 cup chopped cashews
Optional: 1/2 cup shredded cheddar cheese
Ingredients for the Dressing
3/4 cup mayonnaise
1/4 cup sour cream
1/3 cup sugar
2 TBSP vinegar (use red or white, your choice)
1/2 TEA salt
Dash of pepper
Directions
In a large mixing bowl, combine the onion, bacon, seeds, and Craisins® with the broccoli which can be raw. I sometimes steam mine for about 2 minutes just to soften them, but this is not necessary. Mix the salad ingredients well, then add the dressing.
To make the dressing for the broccoli bacon salad, simply whisk together the mayo, sour cream, sugar, vinegar, and seasonings.
NOTE: If you do not have sour cream, just use 1 whole cup of mayo.
Chill in the refrigerator and serve cold.
If you are a broccoli fan, check out my Broccoli Cheese Pie Recipe.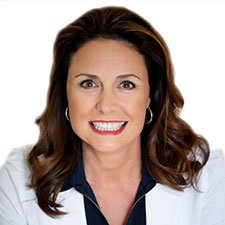 Suzy Cohen, has been a licensed pharmacist for over 30 years and believes the best approach to chronic illness is a combination of natural medicine and conventional. She founded her own dietary supplement company specializing in custom-formulas, some of which have patents. With a special focus on functional medicine, thyroid health and drug nutrient depletion, Suzy is the author of several related books including Thyroid Healthy, Drug Muggers, Diabetes Without Drugs, and a nationally syndicated column.