Ingredients
6 slices of Sourdough bread, or multigrain bread
1/2 stick butter, or some olive oil melted
A ball of fresh mozzarella cheese, sold at any grocery store
1 TEA dried garlic or "onion garlic" powder
12 – 15 cherry tomatoes, sliced
12 Fresh basil leaves, washed and sliced (or 2 TEA dried basil)
2 TBSP balsamic vinegar, reduced is ideal but any kind will work
Salt & Pepper to taste
Directions to make this delicious tomato dish
Preheat the oven to 350 degrees. Melt your butter and spread on the slices of bread. If you are using olive oil, that's fine, sprinkle some on top of your bread.
Now carefully slice your mozzarella cheese and layer it on top of each piece of bread. Sprinkle the garlic powder on top. Arrange the cherry tomatoes, and fresh basil.
Place on cookie sheet.
Bake at 350 for 15 – 20 minutes until the cheese is melted and the tomatoes are a little cooked. Remove from oven and drizzle the vinegar on top. Serve warm.
If you'd like to try another recipe that uses Roma tomatoes, try my Fresh Tomato Basil Salad.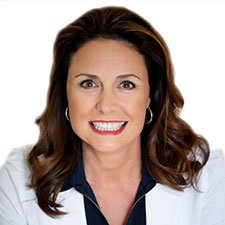 Suzy Cohen, has been a licensed pharmacist for over 30 years and believes the best approach to chronic illness is a combination of natural medicine and conventional. She founded her own dietary supplement company specializing in custom-formulas, some of which have patents. With a special focus on functional medicine, thyroid health and drug nutrient depletion, Suzy is the author of several related books including Thyroid Healthy, Drug Muggers, Diabetes Without Drugs, and a nationally syndicated column.