This chicken soup recipe is so delicious. You do not have to add the chicken pieces to it either, but if you have some around the house, I highly recommend adding the meat because it is a level up! I was talking to my darling daughter Samara who became thrilled at the idea of making homemade Cream of Chicken soup.
Once you eat the homemade kind, you'll never want to eat the canned stuff again! Since we don't live in the same state, I had to promise to post it immediately!
Ingredients For This Yummy Chicken Soup
1/2 stick butter (4 teaspoons) or oil if you want this dairy-free
4 cloves of garlic, chopped
1/4 cup chopped yellow onion
1 carrot chopped well = 1/2 cup
2 stalks of celery, chopped = 1/2 cup
1/2 cup all-purpose flour (gluten-free flour works)
3 cups chicken stock/broth
3 cups milk (or unflavored alternative cashew or oat milk)
1 TEA parsley, dried
1/2 TEA thyme, dried (or 5 fresh sprigs)
1 TEA onion garlic powder
1 TEA salt
1/4 TEA pepper
Optional: 1 – 2 cups chopped or shredded chicken
NOTE: Oftentimes I find myself making chicken stock just to have it on hand.
I do this 3 or 4 times a year, and I freeze it in Mason jars. If you do this too, then this recipe becomes very simple because you can use your fresh chicken stock right then and there, for this soup! And then you might guess what to do with the cooked chicken… turn it into the chicken salad so the next day you can have a Chicken Salad Wrap or Sandwich. 
Directions
In a large pot or 'dutch oven' pot, heat the butter with the garlic, onion, carrots and celery. Saute for approximately 3 minutes until everything is softened.  Using a large whisk, add the flour slowly to the pot and stir well. It will clump a little, but that is fine. Next, add the chicken stock. It is always best to use fresh stock if you have it. But you can certainly use the commercial stock for this recipe (or even bouillon cubes that equal 3 cups when made).
Continue whisking over medium-low heat until everything is combined, and then add 3 cups of milk, as well as your seasonings and salt/pepper. It should look like Cream of Chicken soup by now. Heat slowly until slightly bubbly and if adding cooked chicken, finish with that. Garnish if desired with sprigs of thyme, parsley, or croutons.
If soups interest you, here's another recipe you might like, it's WAY WAY better than the version they give you at Olive Garden! This is my husband's favorite soup during snow days here in Colorado: Tuscana Sausage Potato Soup
If you're wondering if you should even make this soup, I'd suggest you do! Of course, the plain chicken soup is going to be better if you have a cold or flu because you don't want a big dairy hit. But if you're feeling okay, and you want something hearty and delicious, a bowl of chicken soup can warm you up from the inside out.
There are strong anti-inflammatory ingredients in chicken soup, for example, garlic. When you cook fresh garlic cloves in the broth, it releases allicin, a potent antioxidant and anti-inflammatory compound that helps with white blood cells.
For those of you who want a vegan alternative, use Better than Bouillon cubes and it will taste equally delicious. The vitamins and minerals imparted from the other ingredients of this recipe will help your body rebuild tissue and repair bones. Carrots are rich in beta carotene by the way, which is great for the eyes. Most of all, it's easy to swallow. If you've had recent dental work, or you simply don't feel well, a bowl of warm soup is calming to the system and comforting to your soul.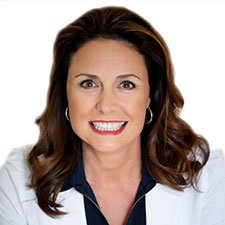 Suzy Cohen, has been a licensed pharmacist for over 30 years and believes the best approach to chronic illness is a combination of natural medicine and conventional. She founded her own dietary supplement company specializing in custom-formulas, some of which have patents. With a special focus on functional medicine, thyroid health and drug nutrient depletion, Suzy is the author of several related books including Thyroid Healthy, Drug Muggers, Diabetes Without Drugs, and a nationally syndicated column.