This Luscious Key Lime pie is so beautiful, that you will be proud to make it and share it at your next dinner party! The mouth-watering flavor of lime is not only delicious but also full of citrus-based antioxidants.
Ingredients for a Key Lime Pie
Ingredients for the crust
1-1/2 cup graham crackers (crush them yourself, or put them in a food processor)
1/4 cup light brown sugar
1/2 cup chopped walnuts
1 TEA vanilla
1 TBSP honey
1/2 stick butter, melted (equal to 4 TBSP)
Ingredients for the key lime pie filling
1-1/2 cans of sweetened condensed milk (21 oz)
1/2 cup sour cream
3/4 cup key lime juice (buy a bottle of Nellie & Joe's Famous Key West Lime Juice at almost any grocery store)
3 egg yolks
Garnishing your work of art
If you wish to garnish your pie, you can do so with whipped cream or freshly sliced (or grated) key limes or both! Another idea is to cut some slices of fresh key lime and arrange those on top of whipped cream. Another simple idea for garnishing this pie is to zest the outside of a green key lime and sprinkle it on top of the whipped cream.
Important Notes & Instructions to make a Key Lime Pie
1. You should not attempt to squeeze your own key limes, you will be there for 5 hours, not kidding! Opt for a bottle of the Key Lime Juice I mentioned above. It will save you at least 5 hours!
2. You could substitute any nut if you're allergic to walnuts. With a key lime pie, your mind goes to the tropics doesn't it? And with that said, you might also consider macadamia nuts instead of walnuts. That would be another variation of the graham cracker crust that works well for this type of pie. If you have a nut allergy, just leave the nuts out! It won't impact the recipe at all, you may need slightly less butter though.
3. When baking your pie, it is hard to actually see it cooking, because it is a liquid pie filling, but after about 20 minutes, it should be done. The texture will look very slightly different on top, thicker… but it will still jiggle a little bit when you take it out of the oven. Don't worry, it will continue to congeal as it cools and chills.
4. Be sure to use sweetened condensed milk. The recipe won't turn out with evaporated milk.
Directions to Make a Key Lime Pie 
Make the pie crust first. Preheat your oven to 350 degrees, and mix together all the ingredients for the pie crust. Bake it for 10 minutes and then remove from the oven. Let it cool for a 10 minutes while you combine all the ingredients for your key lime pie filling with the sweetened condensed milk, sour cream, key lime juice and egg yolks. Whisk all that together and set aside.
Pour your key lime pie filling on top of the cooked crust.
Bake the pie the oven (at 350 degrees) for 20 minutes. The time is based upon how your oven is calibrated, so it might take one person's oven 18 minutes, and someone else's 24 minutes… you're looking for the top to set.
When you take the pie out of the oven, it may still jiggle, but the top should not be runny. Let it cool on top of your stove or a cooling rack for about 30 minutes to an hour. You will see it gets more solid after that time frame.
Next, loosely cover your pie with some foil to protect it, and transfer it to your refrigerator so it can chill overnight (or at least 6 hours).
Garnish if desired with whipped cream, fresh grated key lime zest! 
Maybe you're interested in a smidge more information on key limes? If so, here's data from
Food Data Central.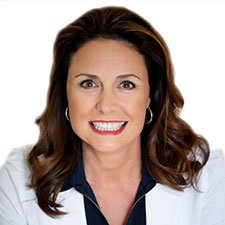 Suzy Cohen, has been a licensed pharmacist for over 30 years and believes the best approach to chronic illness is a combination of natural medicine and conventional. She founded her own dietary supplement company specializing in custom-formulas, some of which have patents. With a special focus on functional medicine, thyroid health and drug nutrient depletion, Suzy is the author of several related books including Thyroid Healthy, Drug Muggers, Diabetes Without Drugs, and a nationally syndicated column.