Keto sausage meatballs will be great to dip in marinara sauce, and you can enjoy them plain, and just eat them as a snack.
Ingredients for Keto Sausage Meatballs
2 cups almond flour
1 and 1/2 cups (1.5 cups total) shredded cheese (I use 1 cup Cheddar usually and/or Parmesan)
2 TEA baking powder
1 pound mild to medium sausage (pork, turkey or chicken work well)
1 package (8 ounces) full-fat cream cheese, microwaved for 30 – 45 seconds til softened (but don't use whipped)
About 1/3 to 1/2 cup parsley, fresh (or 1 TBSP dried)
2 eggs
Directions
Preheat oven to 400 degrees and line a cooking sheet with parchment paper! In a medium-sized bowl combine the almond flour, shredded cheese, baking powder, cream cheese, parsley and eggs. If the sausage brand you purchased is not marked "fully cooked," then cook it in a pan first.
Stir the sausage into the batter. Mix it well until it's fully combined, and then shape it into balls that are about 1-1/2 inches wide.
Place on the baking sheet and cook for about 7 minutes, then use a metal spatula to turn them over (mine are always a little sticky on the pan, they don't want to release easily with tongs, hence the need for a thin metal spatula). Turn them over and cook for another  5 to 7 minutes. They are cooked when they are lightly browned. Serve warm with a salad, or dipping sauce or just eat all by themselves!
You may like this keto Slow Cooker Corned Beef recipe.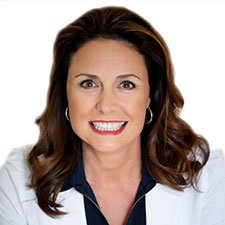 Suzy Cohen, has been a licensed pharmacist for over 30 years and believes the best approach to chronic illness is a combination of natural medicine and conventional. She founded her own dietary supplement company specializing in custom-formulas, some of which have patents. With a special focus on functional medicine, thyroid health and drug nutrient depletion, Suzy is the author of several related books including Thyroid Healthy, Drug Muggers, Diabetes Without Drugs, and a nationally syndicated column.