Ingredients for the Keto Mixed Berry Crumble
1 cup EACH blackberries, blueberry and raspberries, rinsed and patted dry
1 TEA of lemon juice
4 oz yogurt of your choice, plain (low carb, no added sugar)
1 TEA Xanthan gum
Optional: Monkfruit sweetener or Stevia if desired
Ingredients for the Topping
1/4 cup coconut flour
1 cup superfine almond flour available at most grocery stores and also AMAZON
1/4 cup chopped walnuts or pecans
1/3 cup melted butter, unsalted
1/4 TEA salt (omit this if you use salted butter instead of unsalted)
1/2 TEA cinnamon
1/2 TEA vanilla powder (alternatively, 1 TEA vanilla extract but note this usually has alcohol in it)
NOTE: There is no sugar in this Keto Mixed Berry Crumble recipe. I don't like things that are too sweet. The berries will make this sweet enough for me, however I think almost everyone reading this will want a sweetener, even a little. If you want to take a chance and make it without a sweetener, you can alway sprinkle it on top of the crumble.
So, if you would like to add some powdered stevia, monk fruit extract, or erythritol, feel free to do so. You could put a little sweetener in both the topping and the berry mixture if you want to. I don't have an amount to share because the sweetness is in the taste of the beholder.
Directions
Preheat the oven to 350 degrees. Spray oil on 4 small ramekins, or 'giveaway' foil round tins (see my image). I really like those little foil tins because I can also cover them with foil, and put them into a storage bag, then freeze for 3 months! Most people will use a regular pie baking dish, or even a 9 x 11 would work.
In a medium mixing bowl, mix together all the ingredients for the "Keto Mixed Berry Crumble" which includes all three of the berries and lemon juice, the yogurt, and the xanthan gum. Set aside and let it set/congeal.
In another medium mixing bowl, mix together all the ingredients above for the "Topping." Work the butter in until everything is uniform and crumbly.
To assemble, pour the berry mixture into your baking dish, top it with the topping. Add a small slice of butter to the top of the crumble and place in the oven. Bake for approximately 20 – 25 minutes (or whenever the berries are bubbling through the top, and the topping is slightly browned. Remove from oven, and let rest for 15 -30 minutes. You can also chill it if you prefer. Serve with whipped cream if desired.
If you enjoyed this Keto Mixed Berry Crumble recipe, but you are not on a keto diet, you will love my Blueberry Sour Cream Pie. This particular pie is so delicious but it does contain sugar – which you could theoretically reduce or leave completely out if you want! Anyway, my friend sent me a text about this pie because I share it with her family whenever I make it. She said, "Dimitri said you can win a contest with your blueberry pie, that's how much he loves it!"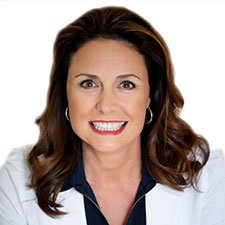 Suzy Cohen, has been a licensed pharmacist for over 30 years and believes the best approach to chronic illness is a combination of natural medicine and conventional. She founded her own dietary supplement company specializing in custom-formulas, some of which have patents. With a special focus on functional medicine, thyroid health and drug nutrient depletion, Suzy is the author of several related books including Thyroid Healthy, Drug Muggers, Diabetes Without Drugs, and a nationally syndicated column.