Ingredients for the Keto Clam Chowder
2 cans of clams (6.5 oz) with the juice
1 large zucchini, peeled and roughly chopped into 1/2-inch cubes
1/3 cup chopped onion
1-1/2 cups water
3 oz cream cheese
1-1/2 cups heavy cream
1/2 TEA celery salt
1/2 TEA garlic powder
1 TBSP lemon juice
1/8 TEA white pepper
Optional: 2 slices of bacon, cooked (1 slice to go in the soup, and the other slice chopped into bits for garnish)
Directions for the Keto Clam Chowder
If using the bacon, saute it in a pan until brown and cooked, then set it aside.
In a medium pot, bring to a simmer the clams with the clam juice, water, zucchini pieces, onion, and cream cheese. Simmer for about 8 minutes until the zucchini is tender. Whisk in the heavy cream and all the seasons and lemon juice as well as a strip of chopped bacon. When the soup is thoroughly heated, turn off the heat and set aside to cool for about 10 -15 minutes.
Sift out approximately 1/2 cup of the little clams and set aside before putting it into your blender. This is done because most people enjoy a little 'chew' in their clam chowder. Now, put the rest of the soup into a Vitamix (or another blender) and blend on high for approximately 30 seconds. To serve, add some of the little clams to each bowl of clam chowder. Garnish with the bacon bits and/or parsley for a little color.
NOTE: Just letting you know, this soup will be very slightly whitish-yellow, not traditionally white like you might expect. It's subtle. The yellow tinge comes from the use of zucchini which I use for this soup because it thickens it.  Traditional white clam chowder is colored white because potatoes are often used as the thickener. But with keto diets, potatoes are not permitted.
If you like this soup recipe, you might enjoy my Freaking Amazing Cream of Chicken Soup.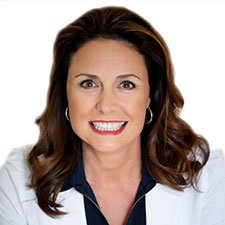 Suzy Cohen, has been a licensed pharmacist for over 30 years and believes the best approach to chronic illness is a combination of natural medicine and conventional. She founded her own dietary supplement company specializing in custom-formulas, some of which have patents. With a special focus on functional medicine, thyroid health and drug nutrient depletion, Suzy is the author of several related books including Thyroid Healthy, Drug Muggers, Diabetes Without Drugs, and a nationally syndicated column.