Ingredients
1 and 1/2 cups almond flour
1 and 1/2 TEA baking powder
2 TBSP butter
1 TBSP "I'm Gluten Free Perfect Gluten Replacement"
3 eggs
1 cup shredded mozzarella cheese (I've used the high moisture kind, and the low moisture kind) – either will work!
2 TBSP sour cream or whole-milk plain yogurt
1/2 TEA garlic powder
1 TEA dried parsley
1/4 TEA salt
Optional: Butter powder – if you have dried butter powder in the house (and I always do because I love to add it to baking recipes), add 1 TBSP to the dough.
Directions for Keto Mozzi Biscuits
Preheat oven to 375 degrees. Whisk the eggs and set aside. Mix together all the other ingredients and then add the eggs. Using a gloved hand or a spatula, combine all the ingredients until it is a consistent dough. Form into biscuits about 3 inches wide. Place onto a parchment paper on a cookie sheet. Bake until the edges and tops are light golden brown. It takes about 15 minutes depending on your oven. These won't rise very much so make sure your expectations are set for a flour-free, wheat-free, gluten-free biscuit. That said, they are DELICIOUS!
If you want to try another keto biscuit, CLICK HERE to get the recipe for a different kind that uses whipped egg whites. It's a totally different 'mouth feel' and you may like it too! Also, here's a recipe for Keto Sausage Meatballs.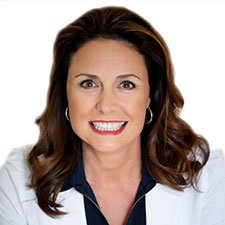 Suzy Cohen, has been a licensed pharmacist for over 30 years and believes the best approach to chronic illness is a combination of natural medicine and conventional. She founded her own dietary supplement company specializing in custom-formulas, some of which have patents. With a special focus on functional medicine, thyroid health and drug nutrient depletion, Suzy is the author of several related books including Thyroid Healthy, Drug Muggers, Diabetes Without Drugs, and a nationally syndicated column.