The following bread is really a good treat for someone on a keto diet who wants tasty, soft bread again! It will fill a gap and give you a great option for sandwiches or a BLT, or for almond butter… anything you want. This bread is delicious and works for me! I've made it a dozen times with no problem. I hope you like it.
Ingredients for Keto Soft White Bread
1 cup "superfine" almond flour
2 TBSP coconut flour
2 TBSP arrowroot powder
1/4 TEA xanthan gum
1/3 cup regular salted butter melted (or alternatively use UNsalted butter and add 1/4 TEA sea salt)
1 and 1/2 cup egg whites
1/4 TEA cream of tarter
Directions
Preheat oven to 325 degrees Farenheit (160 celsius). Line a bread loaf pan with parchment paper. This is my favorite LOAF PAN and it works better than the metal ones.
In a KitchenAid® or with a powerful blender, combine egg whites and cream of tarter, and beat until the egg whites are stiff. Set aside. In a large bowl, stir or whisk together the rest of the dry ingredients (almond flour, coconut flour, arrowroot, xanthan gum). When it's well combined, add the melted butter and stir together until it makes a soft dough. Next, take about a cup of the stiffened egg whites and add it to the dough, and gently stir together. This softens the dough and makes the next process of 'folding' even easier.
Take the rest of the stiffened egg whites and gently fold it into the dough. Do not blend it, do not stir it, keep it as light and airy as possible as you gently FOLD the stiffened egg whites into the dough. It will take about a minute. Once the dough is blended pretty well, pour it into the baking loaf pan. Cook for approximately 1 hour and 25 minutes.
The toothpick test won't work, don't bother. This bread needs to cook a long time. Once you remove it from the oven, take it out of the loaf pan immediately and allow it to cool for at least an hour. Slice with a serrated knife.
If you follow a keto diet, and you make this keto soft white bread, you might like to serve it with some Keto Clam Chowder too!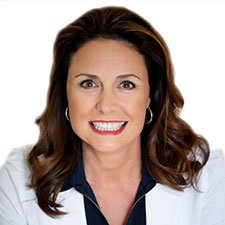 Suzy Cohen, has been a licensed pharmacist for over 30 years and believes the best approach to chronic illness is a combination of natural medicine and conventional. She founded her own dietary supplement company specializing in custom-formulas, some of which have patents. With a special focus on functional medicine, thyroid health and drug nutrient depletion, Suzy is the author of several related books including Thyroid Healthy, Drug Muggers, Diabetes Without Drugs, and a nationally syndicated column.